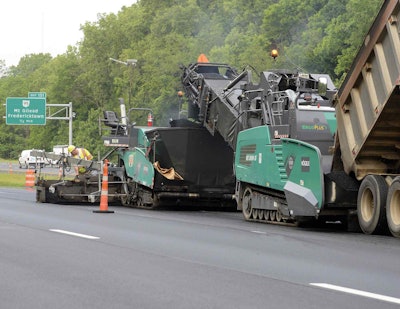 Vögele's Tier 4-interim MT 3000-2i material transfer vehicle, already a staple in the European paving industry, is being introduced in the North American market and offers high capacity, expanded maneuverability and low operating costs.
The machine, which features a 215 hp water-cooled Deutz engine, has a storage capacity of 18 tons and can move 1,300 tons per hour. Weighing in at 56,000 pounds, Vögele says the MT 3000-2i is "heavy enough to get the job done, but portable enough to haul to operate on bridges".
The receiving hopper offers active remixing with two 16-in. diameter conical augers, and the paver hopper features passive remixing with an optional 17-ton or 22-ton receiving insert. Cold crusts are broken up by a grate system in the insert, which creates smaller clumps that can absorb heat from hotter mix. Vögele reports this passive remixing can help lower cost of total ownership because it "costs noting in terms of energy or maintenance".
The primary and secondary conveyor belts, measuring 43 in. wide, are heated, Vogele says, to eliminate "warm up" loads and to keep material from sticking to the belts. Also aiding in keep the belts clean are heated scrapers. The secondary conveyor has a swing capacity of 55 degrees to left or right, a feature new to the North American version.
The MT 3000 2i also offers an automatic feed function that automatically slows or shuts down feed when the paver hopper is filled. Another feature that can keep the operator focused on steering is a unique propel system with a pre-set automatic distance control that keeps the feeder at a set spacing from the paver.