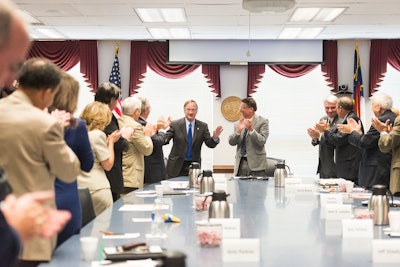 North Carolina already has a new Department of Transportation chief, just a week after the former Secretary stepped down.
North Carolina Gov. Pat McCrory announced on Thursday that Nick Tennyson would take over the position. Tennyson previously worked as the department's Chief Deputy Secretary since 2013.
"Nick Tennyson is the perfect choice to continue the momentum we have made in North Carolina's transportation strategy," McCrory said. "He has been involved in planning all of our key transportation strategies over the last two and half years, and is equipped to hit the ground running to continue our progress."
Tennyson has been acting Secretary of Transportation since Tony Tata left the office a week ago to focus on his family and his side career as an author.
Tennyson also spent two terms as the mayor of Durham, North Carolina, from 1997 to 2001 before he was the Executive Vice President of a regional home builders association.
"I am humbled and honored to serve as North Carolina's Transportation Secretary under Governor McCrory's leadership and vision for our state," Tennyson said. "We've accomplished many great things over the past 32 months with our incredible NCDOT team, and we look forward to continuing that momentum to better connect North Carolina and provide a safe and reliable transportation network for our citizens."