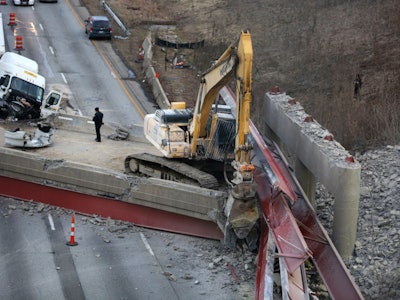 The Occupational Safety and Health Administration (OSHA) has fined Kokosing Construction $14,000 for two safety violations related to its investigation following the death of Brandon Carl Jan. 19 after the Hopple Street Ramp D bridge on Interstate 75 near Cincinnati collapsed.
OSHA issued the two citations July 15. The company signed a settlement agreement to pay $7,000 for each violation by August 31.
"This man and father of four died in a preventable workplace incident. His family will never recover from that loss and the loss of livelihood," OSHA Area Director Ken Montgomery said. "Kokosing Construction has taken steps to prevent as similar tragedy from happening in the future."
The two violations include:
Citation 1, Item 1
Mechanical equipment shall not be used on floors or working surfaces unless such floors or surfaces are of sufficient strength to support the imposed load:
On or about January 19, 2015 employees were exposed to crushing and/or struck by hazards in that the bridge deck where the Komatsu PC 400 LC tracked excavator was performing demolition operations was not of sufficient strength to support the equipment due to the lack of deck removal sequence in the demolition plan.
Penalty: $7,000
Citation 2, Item 2
During demolition, continuing inspections by a competent person shall be made as the work progresses to detect hazards resulting from weakened or deteriorated floors, or walls, or loosened materials. No employee shall be permitted to work where such hazards exist until they are corrected by shoring, bracing, or other effective means
On or about January 19, 2015 the competent person on site halted bridge demolition operations after structural steel beam uplift was detected. The employer allowed employees to continue demolition operations without ensuring the corrective methods were effective in preventing collapse of the structure.
Penalty: $7,000
Kokosing CEO Brian Burgett previously stated the company's demolition plan for the bridge was flawed and contributed to its collapse.
OSHA also fined the company for a separate violation related to exposing workers to trench hazards in June this year at a construction site near Cincinnati. That settlement agreement is for $5,000.