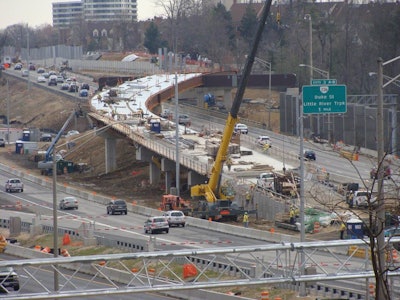 The financing of a high occupancy toll lane project along a stretch of Interstate 95 in northern Virginia received the Project of the Year nod during the American Road & Transportation Builders Association's (ARTBA) recent 27th Annual Public Private Partnership (P3) in Transportation Conference.
Ananth Prasad, former secretary of the Florida Department of Transportation (FDOT), and Bryan A. Kendro, director of the Pennsylvania Department of Transportation's (PennDOT) Office of Policy & Pubic-Private Partnerships, received the P3 Entrepreneurs of the Year award.
The I-95 Express Lanes project covers 29 miles at $1 billion. The project features "an innovative dynamic pricing system that adjusts prices based on real-time traffic conditions, an all-electronic tolling system that eliminates the need for toll booths, dedicated incident response and a high-tech operations center."
Working on the project, which opened last December, were the Virginia Department of Transportation, Virginia Department of Rail & Public Transportation, Federal Highway Administration, Transurban Group and Fluor Corp.
Prasad, who served four years as FDOT secretary and 22 years total with the department, was recognized for fostering the use of "design-build-finance project delivery" and the development of "internal P3 expertise/strategy." Significant project development under her leadership included the $1.8 billion I-595 Express project in south Florida and the $1 billion Port Miami Tunnel project.
Kendro, ARTBA said, oversaw the development of his program's "Implementation Manual & Guidelines," and several P3 projects "that not only will dramatically improve the Commonwealth's transportation network, but also deliver significant savings and efficiencies for taxpayers."
From his work, Pennsylvania is using a P3 approach for the Rapid Bridge Replacement program, a $899 million effort that will replace 558 structurally deficient bridges. ARTBA said the project is the largest of its kind in state history and received the biggest allocation of U.S. Department of Transportation Private Activity Bonds to date at $721.5 million. The program is noted for the estimated 80 percent reduction in time to do the work and 30 percent cut in cost.
Kendro is on ARTBA's P3 Division board of directors and is a co-founder of the P3 Owners Council.