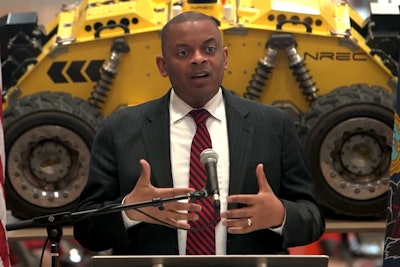 Yesterday morning Transportation Secretary Anthony Foxx sent out letters to the departments of transportation of all 50 states, five territories, and Washington, D.C., advising their leaders that reimbursements for work would stop Aug. 1 if Congress didn't act to at least extend transportation funding.
"Unless Congress acts prior to this date, the Federal Highway Administration (FHWA) will be unable to incur new obligations or make reimbursements to States beginning August 1, 2015," Foxx wrote in his letter.
He sent a similar letter back in May before the most recent funding efforts by Congress was enacted at the end of May, extending authority for the Highway Trust Fund (HTF) until July 31.
The HTF won't actually run out of money on July 31, but FHWA won't have "the authority to provide project sponsors with any additional contract authority for new or ongoing projects," Foxx added. FHWA also will have to furlough employees, many of whom would be involved in approving projects, providing environmental permits, technical assistance, authorizing or modifying projects, or processing payments.
Foxx highlighted in his letter, and a recent blog post, the need for long-term transportation funding and promoting the Obama Administration's GROW AMERICA proposal, which would span 6 years with $478 billion in funding.
"Congress's failure to pass a long-term bill is of great concern to all of us who are engaged in the work of building and maintaining our nation's transportation infrastructure," Foxx's letter continued. "Careening from self-inflicted crisis to self-inflicted crisis undermines our system.  We need Congress to break the cycle of short-term extensions; we need a long-term bill with significant growth. Furthermore, many of you have already told us that a 2- or 3-year patch is insufficient to right the trajectory.  We need your help explaining to Congress why a short-term bill that perpetuates chronic underinvestment is unacceptable."