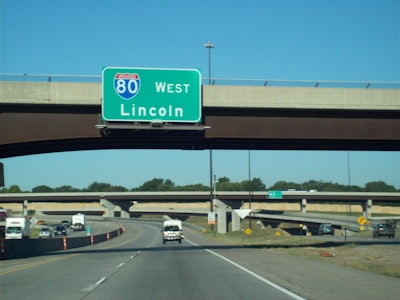 The Nebraska Department of Roads' (NDOR) Fiscal Year 2016 Surface Transportation Program will provide for $505 million for the State Highway System program and $334 million for the Local System Program, as announced July 7.
The State Highway System funds will provide for 110 new projects, with $495 million of the total for construction and $10 million for planning and research. State highway cash funds account for $197 million, federal funds will supply $226 million and $19 million will come from federal earmark and local funds. The Build Nebraska Act will supply $63 million.
The Local System Program funding includes $258 million from the State Highway Trust Fund, $39 million from federal funds, $22 million from the federal funds purchase program, $11 million from the Build Nebraska Act, and $4 million from LB 610A state funds.
Major projects during the fiscal year, which began July 1 and continues through June 30, 2016, include:
11.6 miles of roadway widening, asphalt resurfacing and bridge repair east of Farnam on N-23 in Frontier County
10.6 miles of roadway widening, asphalt resurfacing and bridge repair on N-11 north of Burwell in Garfield County
11.5 miles of concrete resurfacing of U.S 30 in Keith County
Concrete reconstruction of U.S. 30 and N-14 in Central City in Merrick County
4.2 miles of asphalt resurfacing in Central City
A new interchange southeast of Nebraska City
4-lane expressway between Plattsmouth and Bellevue
4-lane expressway on U.S. 30 between Schuyler and Rogers
4-lane reconstruction of the Heartland Expressway south of Alliance
9.2 miles of concrete pavement replacement on Interstate 80 between Lodgepole and Chappell in Cheyenne and Deuel Counties
7.8 miles of replacement on I-80 west of the South Platte River in Deuel County