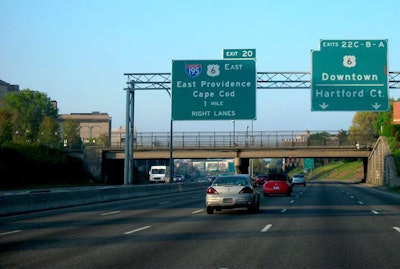 Rhode Island has hired a consultant to assess and provide new methodology on how the state's Department of Transportation and related agencies do business, according to a report by the Providence Journal.
AECOM Technical Services will be paid $340,000 over six months "To provide a comprehensive management assessment conducted across the various transportation agencies to evaluate overall organizations, management, and delivery effectiveness."
These agencies include the Rhode Island Department of Transportation (RIDOT), Commerce RI, Rhode Island Airport Corporation, Rhode Island Public Transit Agency and the Rhode Island Turnpike and Bridge Authority.
According to the request for proposal issued by the Rhode Island Department of Administration, the objectives of the work AECOM will be doing covers seven areas: organization; procurement; contract administration; financial management and controls; safety; quality management and control; and asset management and maintenance.
Gov. Gina Raimondo said in the Providence Journal report that the DOT she "inherited was not well run."
"We need to change the way we are doing business at the DOT," she said. "The first order of action is to make sure that DOT is a highly functioning, highly efficient organization … . That's why I put in a new team from the get-go. I commissioned a top-to-bottom review … and in this budget, I just signed, there is a … reorganization of the DOT. So, as part of doing that work, the top-to-bottom review and the reorganization, I hope and assume they will be working with outside experts."
AECOM will provide their recommendations in five phases, offering an initial diagnostic assessment, a reorganization/restructure plan, a draft action plan, a final recommendations brief, and a final report and presentation. The end date for the contract is Dec. 28 this year.
The company has multiple contracts with RIDOT, and according to the Providence Journal, has been paid nearly $2 million for work spanning July 1, 2014 through the end of June this year.