A construction worker was killed in Maryland last week when a semi-truck crashed into a work zone along Interstate 95.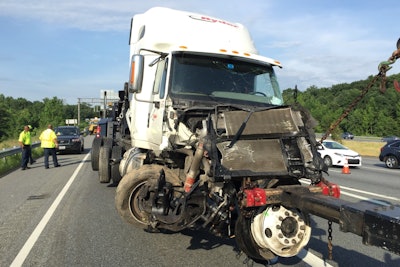 According to a report from WTOP radio, a tractor trailer in the northbound lane "failed to follow a bend in the road," sending the truck crashing into "an attenuator truck with a flashing arrow." The attenuator truck then rammed into a "construction vehicle."
Despite the chain reaction, the semi eventually crashed into the construction vehicle as well before hitting 62-year-old, according to a report from WUSA TV.
Maryland State Police Cpl. Justin Zimmerman tells WTOP the crew had all required safety equipment in place at the time of the accident.
The incident is the latest in a string of fatal work zone vehicle crashes this work season and one of four fatal crashes involving a tractor trailer in June alone.
A recent survey by the Associated General Contractors of America (AGC) found that 46 percent of road contractors have had a vehicle crash in one of their work zones, with 30 percent indicating at least five such incidences in a year's time.