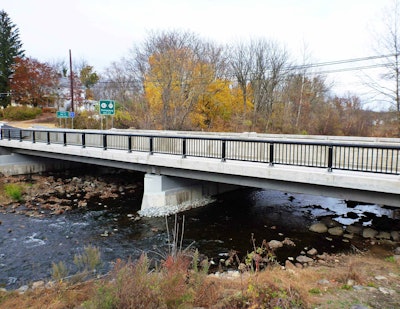 The New Jersey Department of Transportation (NJDOT) has been awarded the first regional awards for the 2015 America's Transportation Awards competition for two projects in the Best Use of Innovation and the Quality of Life/Community Development categories.
Co-sponsored by the American Association of State Highway and Transportation Officials (AASHTO), AAA and the U.S. Chamber of Commerce, the awards are presented in four regional competitions for three categories. These include Under Budge, Best Use of Innovation, and Quality of Life/Community Development. NJDOT is the winner for the northeast region.
NJDOT's Route 46 over Musconetcong River project, which won for Best Use of Innovation, was a $3.4 million replacement of a 90-year-old bridge. The department used pre-fabricated components to cut down on construction time and traffic delays.
The Quality of Life/Community Development winner was the $8.1 million U.S. 322 Bridge/Mullica Hill Pond Dam project. The department replaced a dam and bridge damaged by Hurricane Irene and protects the area from flooding and improves access for pedestrians.
"These awards recognize the many ways State DOTs are successfully completing projects to enhance Americans' quality of life and provide for a vibrant economy," said John Cox, AASHTO president and director of the Wyoming Department of Transportation.
The remaining regional winners will be announced throughout the summer, AASHTO says. The top regional winners with the highest scores will qualify for the National Grand Prize and People's Choice Award. More information about the program is available here.