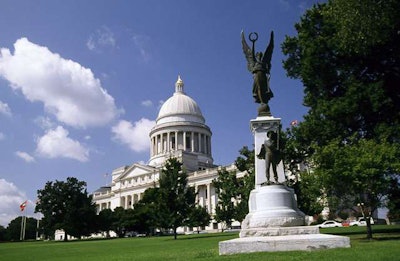 The Arkansas State Highway and Transportation Department (AHTD) has pulled six projects valued at $55 million from its opening bid for July 21 because the department has doubts it will receive federal reimbursements from the Highway Transportation Fund.
Counting this setback, AHTD has withdrawn a total of 75 projects from bid openings this year, representing $335 million in construction work. The department previously stated that up to 131 projects totaling $1.5 billion could be in jeopardy.
The latest round of halted projects include:
Conway South Interchange, Highway 365 in Faulkner County
Union Pacific Railroad Overpass in Pulaski County
El Dorado, Highway 335 in Union County
Highway 335, Ouachita River in Union County
Stokes Creek Street, Garland County
Shoulder rumble strips/stripes, various counties in Districts 1, 5, 6 and 10
AHTD did reinstate a project that involved applying high friction safety treatments to several interstate off-ramps across the state.
"Delaying this project any further would mean that this temperature-sensitive work could not be completed this year," said AHTD Director Scott Bennett. "Safety continues to be our top priority, and we'll tighten our belts even more in order to make this happen. This is a relatively small project, but it will have a big impact on safety."