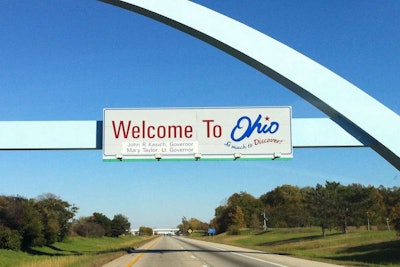 The Road Improvement Program's (TRIP) recent analysis of Ohio's transportation system finds the state will see an $11.6 billion shortfall in funding for improvements for roads, highways and bridges through 2017.
The report indicates 24 percent of the major locally- and state-maintained urban roads are in poor condition, with 41 percent being in a mediocre or fair state, and only 35 percent being in good condition. Ninety-eight percent of the state-maintained urban and rural roads, however, are in acceptable condition.
Roughly one in four of Ohio's locally- and state-maintained bridges are rated structurally deficient or functionally obsolete. Structurally deficient bridges account for 8 percent of all bridges in the state, with 16 percent being functionally obsolete.
"TRIP's report once again demonstrates that more must be done to secure funding for our state's roads and bridges," AAA Ohio Auto Club Senior Public Relations Manager Kimberly Schwind said. "Our leaders in Ohio and Washington must recognize the importance of this issue before it's too late. Putting off tough decisions will only lead to longer commutes, more potholes and unsafe roads."
TRIP says many of Ohio's reconstruction projects will be hampered by Washington's indecision on continued long-term transportation funding. Some of these projects include portions of Interstates 70, 71 and 271 near Columbus, I-80 near Youngstown, I-77 in Cuyahoga County, I-76 near Akron, I-75 near Cincinnati, and the Opportunity Corridor highway project in Cleveland.
"Ohio's transportation system will become increasingly deteriorated and congested if greater funding is not made available at the local, state and federal levels," TRIP Executive Director Will Wilkins said. "Congress can help by approving a long-term federal surface transportation program. If not, Ohio is going to see its future federal funding threatened, resulting in few road and bridge improvements, loss of jobs, and a burden on the state's economy."