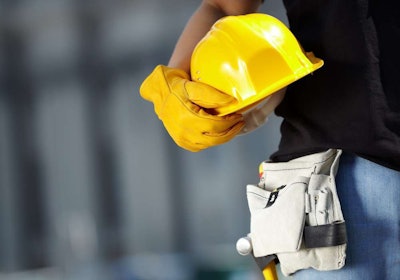 The Cintas and Carhartt Tough Crew Contest has closed its nomination period for nominees, and a bridge builder and his Indiana crew are among the 12 finalists.
Michael Knott and his team out of New Palestine, Indiana, were selected to have a chance at the prize of $2,500 in Carhartt merchandise. Voting can be done at the contest website where photos and bios of the finalists are available.
Knott's crew works for Walsh Construction where they do work ranging from large gang forms to doing 1,000-yard pours each day.
"It's extremely hard work – a normal person wouldn't last a day," Knott said in his bio on the finalists website. "We work if it's 120 or -20 degrees out. Whatever it takes to get the job done, we do it."
Started in 2014, the Cintas and Carhartt Tough Crew Contest takes entries from crews across the country who "outwork them all."
"We're excited to be doing something different this year by recognizing crews of workers," senior marketing and strategy manager for Cintas Corporation John Rudy said in a press release. "We've heard great stories about North America's workforce through our previous contests with Carhartt, and we look forward to opening it up to groups that work in tough conditions year round and in all types of climates."
This particular contest may have just started last year, but Carhartt and Cintas have held similar contests to honor other individuals who work in tough conditions. Last year, there were 15,000 entries for the Cintas & Carhartt Cold Crew Contest.
Knott joins the following finalists for the contest:
Anjanet Banuelos, a bellman with a crane operations crew from Portland, Oregon
Blake Bornstein, works with a commercial fishing crew in Kenai, Alaska
Tina DeSandre and her commercial HVAC team from Detroit
James Falandes and his locomotive engineering crew from North Adams, Massachusetts
Ric Hawkins, a certified electric foreman and his team from Orosi, California
Ryan Jacobs and his landscaping crew from McSherrystown, Pennsylvania
David King, a member of a rig welding crew from Houston, Texas
Waylon Marr, a railway carman and his crew from Lincoln, Nebraska
Charles Miles, and his crew of whiskey warehouse carpenters from Bardstown, Kentucky
Jodi Tillinghast, an inside wireman and her crew of electricians working on the new light rail project in Portland
Andrea Townsley-Sapp, and her crew of conservation aids from Forest Hill, Maryland