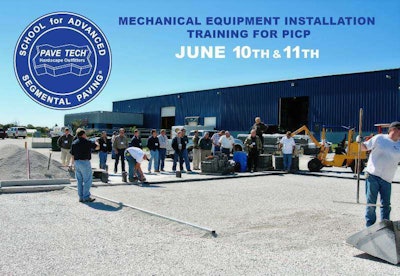 The School for Advance Segmental Paving (SASP) is offering two days of training and education for the mechanical installation of permeable interlocking concrete pavement, June 10-11 at its Franksville, Wisconsin location.
SASP says industry pros and manufacturer reps will be on hand providing instruction and training. Topics to be covered include mechanical laying and screeding, best practices for site layout with proportional laser training, compaction and screeding.
Equipment available during the course include: Terex articulated wheel loader, compact laying machine, powered sweepers, dual grade laser, hurricane trailered vacuum system, trailered air compressor, hydraulic triple plate compactor, LevelKING™ loader laser screed, SandMAX large mechanical pull screeds, PaverMAX mechanical laying machine, Typhoon joint cleaner, PUV paver utility vehicle, and UltraSCREED tracked screeder.
Twenty spots are available for the training sessions, and more information including rates is available at http://www.paverschool.com or by calling 952-226-6400 or emailing info@paverschool.com.