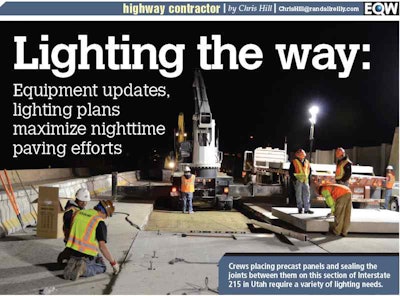 Nighttime paving is that nearly ubiquitous scene played out across the United States beginning in late spring. While it's viewed as a hindrance to late commuters, night owls or overnight trucking, it's a necessary part of paving contracting in order to meet deadlines, avoid traffic congestion, and in some cases, blistering heat.
When working at night, it's all about visibility, both on and surrounding the job.
Lighting plans
Work zone illumination means much more than simply setting a few light towers and attaching balloon lights to equipment. You need a strategy, because different tasks involved in paving require different levels of light.
According to the American Traffic Safety Services Association's -Nighttime Lighting Guidelines for Work Zones, available on workzonesafety.org, a lighting plan involves five steps:
1. Determine the work being done and light levels needed. This involves simply cataloguing the work that needs to be done, then figuring the amount of light needed for these tasks. The Federal Highway Administration (FHWA) and state departments of transportation offer minimum lighting requirements for specific tasks. See the "Lighting task categories" sidebar on page 74 for specific examples.
2. Determine the amount of area in the work zone needing to be illuminated. This is the area to be cordoned off or segregated in which work will be completed.
3. Pick the type of lighting system and lighting sources needed. The four general types of lighting include factory-installed lights on equipment, roadway luminaires on temporary poles, balloon lighting, and portable light plant towers. It's important to note, however, that lights on equipment lighting cannot be considered part of the amount of light required.
4. Determine the locations for the lights. Consider where tasks will be completed and any areas where equipment and personnel will need to travel.
5. Test the plan and make adjustments. Essentially a dry run, testing involves measuring light levels, as well as checking for glare not only for personnel, but also passing traffic and any residential impacts.
Equipment lighting
Beyond a lighting plan, operator visibility while operating machinery is a must, and visibility has been top of mind in current paving equipment design.
"When we design a machine, we look at a scenarios, such as night and low light conditions," says John Mooney, product manager, paving and milling products for Volvo Construction Equipment. For darker conditions, he says "you have to brighten things up."
"Switches are back lit. This allows us to not put overhead lights (above the operator) flooding an area with light. They can see in low light situations, which fits well with the LED revolution going on." Mooney references the growing shift from halogen lights to light-emitting diode bulbs, particularly in on-equipment applications.
"Ten years ago there were very few displays (with LEDs). Now we've gone to color displays, with night and day characteristics." Mooney says the lower light settings are in reverse colors. "They're friendlier to the human eye."
New lighting enhancements from Caterpillar Paving Products also focus on visibility in the cab. "In terms of what's new, most new Cat Paving equipment come with backlit controls and some use LED technology," says Jon Sjoblad, Caterpillar Paving Products marketing communications. Visibility in a range of light conditions that makes controls easier to identify, is what makes backlit surfaces so beneficial for operators.
While LEDs are expensive, being three to four times the cost of halogens, Mooney says, they're gradually making their way into more machines because of their longer life and lower power draw. "The whole light revolution has been transitioned with LEDs," he says. "There are a lot of subtleties of LEDs that enhance what you're doing with low light conditions."
"LED lights are one of the biggest improvements to the night paving industry," says Jonathan Oney, product manager, paving and milling for Atlas Copco Construction Equipment. "They burn brighter, cooler and more efficiently than traditional halogen bulbs. The brighter LEDs provide greater visibility of the worksite and nearby workers than halogen bulbs, which enhances accuracy and safety. Also, since they are not as hot as halogens they last significantly longer, which means less maintenance and downtime."
Oney adds Atlas Copco has partnered with Carlson Paving Products in offering Carlson's LED Blade Lights on the F800 and F1000 pavers. "They are as bright as 2,000-watt halogen bulbs, but use as much as 70 percent less power," he says. "They also have a service life of as long as 50,000 hours, so contractors spend less time and money replacing them."
Henry Polk, product marketing manager paving products, BOMAG Americas, says the company's Cedarapids pavers are standard with a sealed halogen beam on all four corners of the machines. "We do provide balloon lights for the paver if the customer wishes to order," he says. "There are also LED tower lights available on the market that plug into one of the six, 120-volt outlets located at the screed."
LED lights are available on a wide range of Cat Paving machines. Roading lights are available as either halogen or LEDs, the use of which depends on the machine in use, as well as additional working light packages.
Machine design
But design improvements for visibility haven't been limited to lighting. One minor adjustment has been with the paint finish.
Mooney says Volvo's PF7000 Highway-Class pavers have a matte finish on areas that the operator can see looking forward, so light doesn't reflect up into the operator's line of sight. "This is mainly for sunlight, but at night it works the same way, as lights can glare and blind," he says.
For Atlas Copco, equipment improvement definitely extends into operator comfort. "Safety also goes beyond having enough light to see what you're doing," Oney says. "We've incorporated features that enhance ergonomics and ease of use, which is great during the day, but improves productivity at night, too. For instance, our pavers feature some of the lowest deck heights in the industry at 5 1/4 feet tall. This gives operators excellent visibility of the surface and the hopper, which means enhanced accuracy and quality."
Oney also says features such as multiple operating stations and switch updates help with visibility and focus. "Our pavers also feature two operating stations on each side of the equipment," he says. "The stations swing out to give operators maximum visibility to the front and rear, and feature grouped switches for simple operation. The grouped switches also allow the operator to focus on paving and nearby workers rather than constantly looking down at the controls."
Polk says BOMAG has made three significant design changes that improve overall visibility and crew safety for both night and day paving operations. "The operator station now pivots out over the side of the paver," he says. "The operator has a better view for line of paving and communication with the truck driver in front of the paver. We have changed the design of hood to allow for a better view of jobsite conditions all around the paver. We have relocated the generator from the screed and moved it forward on the paver. This has greatly reduced the sound level and will provide a safer and more comfortable -working environment for the crew.
In general, BOMAG ensures the engine powering the Cedarapids pavers offers plenty of reserve power for powering options such as lighting for night paving without sacrificing paver performance.
This latter feature is something Atlas Copco also considers. "We equip our pavers with 34 kilowatts of electrical power – 20 kilowatts is used to heat the screed and the other 14 kilowatts is specifically for powering lighting equipment that contractors can mount to the pavers," Oney adds.
In addition to powering balloon lighting, the auxiliary power panels on Cat's paving machines provide power to LED ambient light packages, which cut back on glare for the benefit of personnel and passing traffic.