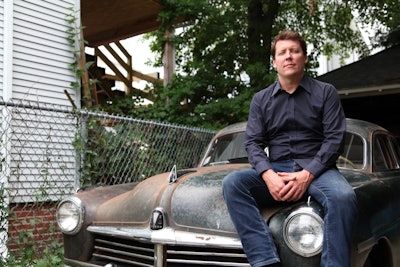 Author Dan McNichol, who has driven a 1949 Hudson across the country to bring attention to road and bridge conditions,
helped the American Public Works Association (APWA) kick off National Public Works Week with an appearance in Washington, D.C. at the city's Public Works Fleet Campus.
McNichol is driving the classic car from Brookline, Massachusetts to Los Angeles to "assess the condition of infrastructure projects, visit with public works departments, and find some solutions along the way" as part of the APWA-sponsored "Low and Slow Across America's Infrastructure" tour.
"McNichol's trip will draw attention to the critical condition of our country's infrastructure and increase awareness of public works professionals, as well as the infrastructure investments needed to maintain these systems," said APWA Executive Director, Peter King. "Later this summer, McNichol will also discuss the tour with attendees of the APWA 2015 International Public Works Congress in Phoenix, AZ. on Wednesday, Sept. 2, 2015," King said.
National Public Works Week, which began in 1960, is celebrated during the third full week of May. Its purpose is to "energize and educate the public, government leaders, media, companies and other stakeholders about the importance of public works in our daily lives."