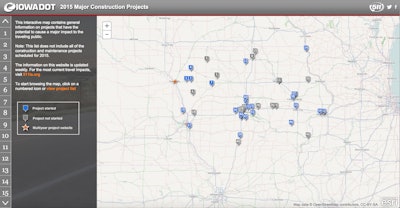 The Iowa Department of Transportation has made finding and avoiding major roadwork a little easier for drivers in the state.
The DOT launched a website that provides drivers with information about the location of major construction projects in the state that affect traffic, according to a release from the department.
The website features an interactive map with markers signaling where roadwork is underway or upcoming. With a click on a specific, numbered marker, the website provides details about the project.
The exact location of the project is listed along with the project description, project updates, the state and estimated completion dates, contact information and even the cost of the project.
"People often want to see an overview of the larger projects the Iowa DOT is working on and the areas of the state that are being impacted. The website allows us to offer this information to our customers," Iowa DOT traffic safety engineer Mark Bortle said. "This year we've made several improvements to the website including look, layout, and ease of navigating through the information."
The website does not give details on every single project Iowa DOT has planned for this year, but there are currently 47 major projects featured.