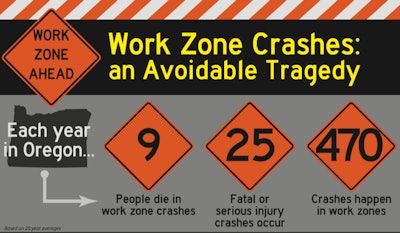 The Oregon Department of Transportation has developed an infographic designed to educate and bring awareness of work zone dangers for motorists.
"Each and every day, no matter the time of year, when we use the roads and streets in Oregon, we need to take responsibility to keep ourselves and those around us safe," ODOT said in a statement. "We urge travelers to take a couple of actions to protect themselves, their passengers and construction workers. Together, we can make a difference."
On the infographic, seen in full below, ODOT highlights the number of work zone crashes and fatalities that occur each year in the state, as well as the main causes of crashes in work zones (inattention, speed, driving too fast for conditions). The message to drivers is to slow down, pay attention, and obey signs and flaggers.
ODOT points out that they're working to make roads and work zones safer through engineering efforts and partnering with law enforcement for additional presence at and near work zones.