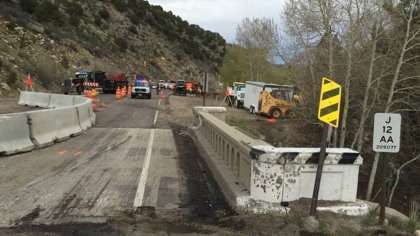 A Colorado Department of Transportation worker was killed last week after a four-vehicle crash in a construction zone.
David Morris, 61, was driving a CDOT dump truck when a semi-truck failed to stop at a construction zone on Highway 50 Friday afternoon, CBS Denver reported.
Traffic on the road was reduced to one lane because of the construction, and eastbound traffic was stopped to allow the westbound vehicles to pass. The eastbound semi didn't stop, and it veered into the westbound lanes.
The semi hit a small passenger truck before it crashed into the CDOT truck and one more passenger vehicle. The impact caused Morris' vehicle to roll on to the road and killed Morris instantly, according to KDVR.
The semi then went off the highway and down into an embankment. The driver had to be airlifted to a nearby hospital for serious injuries. The drivers of the other two vehicles struck by the semi didn't need medical attention.
Morris, a member of the Monarch Pass maintenance crew, began working for CDOT in 2011. It was two years prior to Morris' start that the last CDOT worker died in 2009.
"It is absolutely heartbreaking that we have lost one of our family in the line of duty and our deepest condolences and sympathies go out to the family, coworkers and friends," CDOT Executive Director Shailen Bhatt said. "This terrible tragedy only underscores the risks that we take every day to ensure our roads are as safe as possible. Every day we go to work with the expectation that we come home safely, but we also recognize that our mission puts us in the line of danger."
Each year, more than 20,000 workers are injured in road construction work zones, according to the Federal Highway Administration.