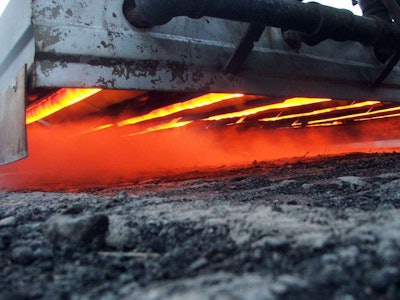 Prince George's County in Maryland can now repair potholes any time of year using Pavement Corp.'s infrared asphalt repair technology. The two entities have agreed to a two-year pilot program.
Infrared repair systems have been around for a few years. An area to be repaired is heated until the asphalt is "workable" and pliant, then a "rejuvenating compound" is added along with recycled and/or new asphalt, which is then smoothed out over patch.
The advantage comes with the strength of the bond due to the spot heating of existing material that also creates a more uniform patch. Plus it can be done in cold weather, rather than waiting until warmer months.
"Potholes are a consistently vexing challenge for residents of and visitors to Prince George's County," Darrell B. Mobley, director of the Prince George's County Department of Public Works and Transportation said. "We are excited by the opportunity this new technology brings to help us more efficiently and economically address them.
Charles Schwartz, professor and chair of the University of Maryland's Department of Civil and Environmental Engineering, tested Pavement Corp.'s infrared system over the course of a year. The Maryland Industrial Partnerships Program (MIPS) and Pavement Corp. funded the study.
Working with Pavement Corp., Schwartz and graduate student Chris Leininger developed quality assurance guidelines for the patching process, because there were simply few guidelines in existence for infrared asphalt repair.
"The depth of penetration of the heating process is very important," Leininger said. "You don't want to char the asphalt but, you have to heat it to a specific depth." He is basing his M.S. thesis on infrared road repair.
"The results of this study should promote the acceptance of infrared asphalt repair as a cost-effective, long-term technique for maintaining roads in the U.S.," Schwartz added.
"Prince George's County is now on the cutting edge of technology for fixing its roads thanks to this pilot program," Pavement Corp. President Jay Perry said. "In addition, as a Prince George's County-based company, we expect to add five to 10 jobs in the short-term and 20 to 30 more if our projections for expansion come to fruition."
"Potholes are a quality of life issue, especially for people in Prince George's County right now," Derrick Davis, vice chair of the Prince George's County Council said. "We are excited and proud of this program between Prince George's County and Pavement Corporation, as it employs the latest technologies to save our taxpayers millions of dollars in car repairs through faster, longer-lasting pothole patches performed year-round."