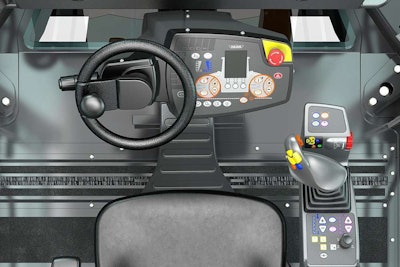 [imagebrowser id=242]
At Intermat, Hamm has introduced a new operator's interface for its rollers which greatly improves over the current instrumentation while establishing a consistent panel the company will use across the lineup.
The panel is anchored by a mini control knob steering wheel positioned to the left of the panel's buttons and switches rather than hovering over top of them as in some of the company's past iterations. To the right of the wheel is the main panel where a small display resides along with buttons for the machine's drums and other operation indicators.
Above and below the new joystick control are two more smaller button panels. Situated on the lower panel is a small joystick that allows the operator to shift the position of the seat and panel to the left or right in order to see the drums better.
In addition to a full range of side-to-side movement, the entire panel can also be swiveled 180 degrees to view a rear drum.
Hamm allowed Intermat visitors to try out the new panel and all of its functions using a simulator.
Hamm's Andreas Baumann said the rollout of the Easy Drive panel will begin likely begin in the U.S. when the HD+ roller is upgraded to a Tier 4 Final engine.