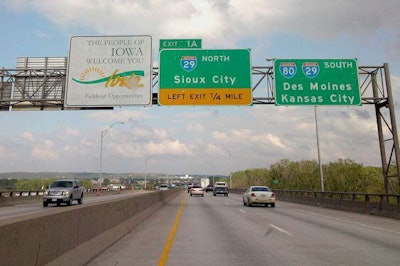 The Iowa Department of Transportation (IDOT) is planning $700 million in state and interstate highway projects this year, representing a record amount spent by the department, which is made possible by the gas tax increase approved earlier this year.
The gas tax increase of 10 cents per gallon will create an additional $33 million in funds for projects over the previous record from last year, according to a report by the Des Moines Register. Ultimately, the increase is estimated to pull in an additional $200 million each year.
The Register reported several areas, which have held off on much-needed repairs in recent years, would benefit from the additional funding.
Ringgold County, in the southern portion of the state, will see a $570,000 bump, an amount that will go toward top priority projects, such as well worn and seal-coated roads that stretch through 75 miles of the county. The funds also will go toward bridge repair, the paper reported.
Roughly 53 percent of the county's 232 bridges have either been closed or have weight restrictions. "There will be a tug of war for dollars in terms of what to fix first," said Zach Gunsolley, county engineer.
Overall, IDOT will create approximately 500 project construction work zones until the end of construction season. "Watch for the orange signs with the black letters," said Mark Bortle, an IDOT traffic safety engineer in Ames, who is quoted in the report. "Keep a distance from other vehicles. Don't tailgate, turn off your cellphone, and just pay attention to your driving."
IDOT's five-year plan for road and bridge improvement projects is available here.