[imagebrowser id=238]
Hamm on Monday expanded its lineup of compact rollers with the introduction of the H5i and H7i at the Intermat show in Paris.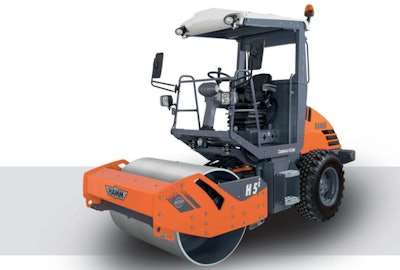 Powered by a 73-horsepower, Tier 4 Final Kubota engine, the H 5i and H 7i have operating weights of 4.5 tons and 8 tons, respectively. Hamm notes that the H 7i lays claim to the shortest compactor in its weight class at 14.4 feet.
Hamm says a redesigned traction drive for these rollers gives them high climbing capacity and ground clearance. The machines' wheels are no longer driven by a rear axle, but instead by wheel motors. Helping matters more in climbing situations and rough terrain are the machines' three-point swivel joint and short wheelbase.
Available options include the Motor Stop system for reducing fuel consumption, an air conditioner, telematics interface, electronic batter cut-off switch and LED lighting.
Customers can also choose between smooth or Hamm's new two-piece padfoot drums. On the H 7i, a VIO drum, capable of compacting with either vibration or oscillation, will be available also.