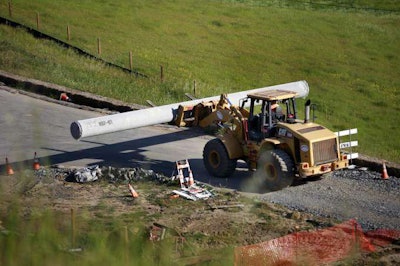 While working a highway job near San Francisco Wednesday, a construction worker was crushed and killed by a large pipe.
According to a report from the Press Democrat, 28-year-old Jared Overfield was killed inside a work zone along Highway 101 as part of a crew working to improve a frontage road.
Overfield was directing a wheel loader operator who was moving a 40-foot, 8,000-pound pipe when the pipe began to shift from the loader's forks.
The pipe rolled from the loader and crushed Overfield who was standing in front of the machine. Sonoma County Sheriff's officials said Overfield survived for about 10 minutes after the initial emergency call was made. He was pronounced dead at the scene.
The paper reports Overfield had worked for eight years at San Rafael-based Maggiora & Ghilotti engineering contractors, The company is working with both the Sonoma Sheriff's Office and the California Occupational Safety and Health Administration to investigate what caused the pipe to roll.