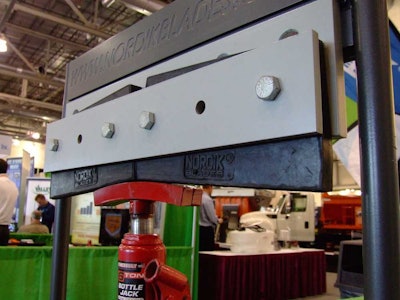 Nordik Blades' new MOVE blades are designed to move with the shape of the road when plowing, thereby cutting down on multiple plowing passes because of missed snow and ice.
On display this week at the American Public Works Association North American Snow Conference in Grand Rapids, Michigan, the company says the blades will provide exponential savings for DOTs and municipalities through reduced fuel costs thanks to fewer passes as well as less damage to existing plow blades. Plus, the blades eliminate the need for shoes to be placed on the blades.
The blades, made with a 50 DURO rubber coating over a 1020 steel base, are available in 1-foot sections and have been designed to be mounted on any existing plow blade via a bolt slid through a front steel holder, into bushings in the rubber blade, and through a back adapter blade. The bolts are then secured with nuts behind the back adapter blade.
The bushings are what allow the blades to pivot when encountering uneven roadways and the relatively small 1-foot sections provide smaller contour shifts on what would otherwise be a long, unforgiving blade.
The steel portions of the blades, made from non-recycle carbide steel, have a shear strength of 102,000 psi, and the rubber sections are resistant to temperatures as low as -70 degrees F (-57 degress C).