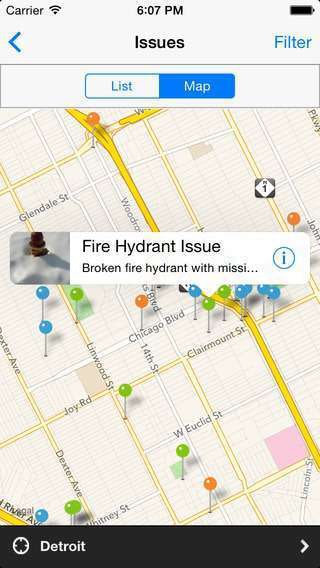 The city of Detroit is turning its citizens into infrastructure watchdogs with the new Improve Detroit app.
The app, available for both Android and iOS, can be used to report issues such as potholes and water main breaks directly to the city.
"The new Improve Detroit app is like having City Hall on your phone," said Mayor Mike Duggan. "From wherever they are, this simple tool will allow residents to report an urgent problem we may not know about. They will be able to report the type of problem, the exact location and even submit a photo."
The app routes reports to the corresponding city department and then creates a work order that ban be tracked by both the city and the general public. The latter will receive automatic notifications on the work order's progress up to when it's completed.
In phase one of the Improve Detroit, residents can select the a handful of service issues, including potholes, missing or defective manhole covers, water main breaks, clogged drains, broken fire hydrants, running water in an abandoned building, abandoned vehicles, street light poles down, dangerous trees on city property, and illegal dumping.
In addition to the reporting function, residents can pay their water bill with the app, with additional city services being added in the future. The app is available here.
Residents can also report issues online or via calling the Detroit Office of the Ombudsman.