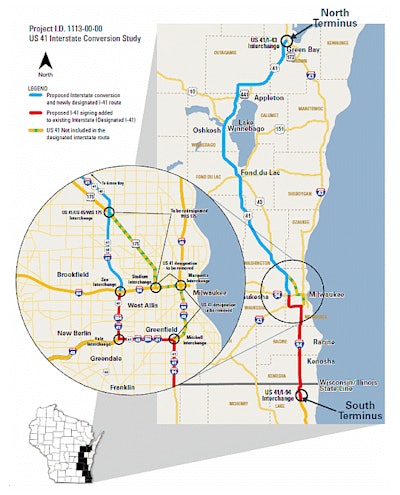 A portion of U.S. Highway 41 that runs from just south of the Wisconsin/Illinois border to Green Bay has officially been designated Interstate 41.
Roughly 3,000 I-41 signs will be added to the highway through November 2015 to signify the change.
"The Interstate designation is the culmination of years of hard work by federal, state, and local officials that will stimulate economic opportunities from Milwaukee to Green Bay and beyond," Governor Scott Walker said. "Our Interstate system is a critical part of our infrastructure, which fuels commerce, helps grow the economy, and creates jobs."
I-41 begins at the Interstate 94 and U.S. 41 interchange one mile south of the Wisconsin state line, follows I-94 north to Interstate 894 and U.S. 45 near Milwaukee, then on to Green Bay ending at the Interstate 43 interchange. In Milwaukee, U.S. 41 will be re-routed to follow I-41 along I-894 and U.S. 45, and the current U.S. 41 route will be renamed Wisconsin 175.
Federal officials first identified U.S. 41 as a candidate to be included in the Interstate Highway System in 2005, with conversion planning commencing in 2007. Planning and studies continued on through 2011, followed by federal legislation passed in December 2014 that was required to allow a segment of commercial trucks to keep travelling on the highway after it was converted to an interstate.
More information on the project is available here.