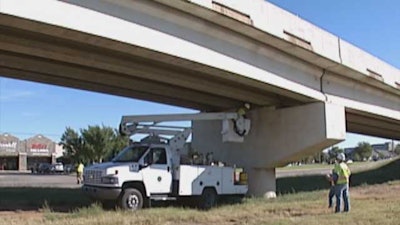 The Oklahoma Department of Transportation (ODOT) has hired an engineering group to create a new plan for examining and responding to bridge inspections in earthquake zones, according to a report by the Tulsa World.
For the past year, the state has been using an "earthquake response protocol" developed in part by officials from California. The ODOT Commission approved $570,000 for Infrastructure Engineers to provide a study and protocol within the next two years.
Currently, bridges within a 5-mile radius of the epicenter of a 4.0 magnitude or larger earthquake are inspected. If damage is found, the next step is to inspect bridges 10 miles out. Steve Jacobi, ODOT's chief bridge engineer, said there has yet to be earthquake-related damage found on bridges in the state.
"What we'd like to do is be proactive with regard to these seismic events that have been happening," Jacobi said in the report. "This will help spell out inspection procedures, response protocols. There will be training for ODOT staff. There will be development of a bridge inspection manual for post-seismic events."
"We don't know what it's doing to the roadways, more specifically we don't know what it's doing to our bridges," ODOT Director Mike Patterson said, according to a report from News on 6.
The Tulsa World reported that Oklahoma had 585 3.0 or stronger earthquakes last year, making it the "most seismically active" state in the contiguous U.S. A 5.6 magnitude quake struck Prague, Okla., in 2011 and caused damage to U.S. 62 as well as damage to roughly 200 buildings and destroyed more than a dozen homes.