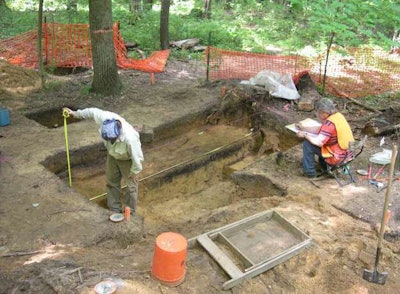 Work performed by the Michigan Department of Transportation (MDOT) to preserve Native American artifacts found during the M-231 project has earned the department, and the six tribes involved in the effort, the Governor's Award for Historic Preservation.
Construction on M-231 began in spring 2011 and will stretch from M-45, a.k.a. Lake Michigan Drive, to the Interstate 96/M-104/112th Ave. interchange near Nunica. The two-lane roadway is expected to be finished in spring 2016.
MDOT performed excavations on three "historically significant" sites in 2011 and 2012 and found Native American artifacts such as pottery shards and arrowheads dating back to 500 to 1000 years ago. MDOT said evidence also was found that the sites were used for "harvesting wild rice and fishing for lake sturgeon."
"We review about 300 projects a year and use topography, distance to water, soil types, vegetation patterns, early maps, and historical records to help us determine if a road project might impact a historically significant archaeological site," said MDOT Archeologist James Robertson. "Our goal is to avoid impacting archaeological sites. In the rare cases when avoidance is not possible, we preserve the information about the site by doing excavations and then use it to better understand the lifestyles and cultures of the native people who lived there."
The department created a Tribal Involvement Plan (TIP) that set a communications plan for informing the local Native American tribes and created protocols for allowing tribal visits to include spiritual blessings and other ceremonies during the work.
To create the plan, MDOT worked with the Federal Highway Administration (FHWA), the Michigan State Historic Preservation Office (SHPO) and the Little River Band of Ottawa Indians, the Match-e-be-nash-she-wish (Gun Lake) Band of Pottawatomi Indians, the Nottawaseppi Huron Band of the Potawatomi, the Saginaw Chippewa Indian Tribe of Michigan, the Little Traverse Bay Bands of Odawa Indians, and the Grand Traverse Band of Ottawa and Chippewa Indians.
The tribes are working with MDOT to create comprehensive learning guides to teach Michigan schoolchildren about the local tribes' activities and lifestyles from the period, including tribal history and culture, as well as details about wild rice and lake sturgeon.
The award will be presented at a public ceremony in the Michigan State Capitol rotunda at 9 a.m. on May 6. More information about other historical preservation activities in Michigan is available here.