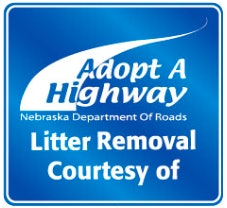 To celebrate 25 years of its Adopt-a-Highway litter cleanup program, Nebraska Gov. Pete Ricketts has declared April "Adopt-a-Highway Appreciation Month," coinciding with the state's annual "Great Nebraska Trash-Off" efforts.
Adopt-a-Highway groups pick up litter and trash along their selected highway area twice a year for two years. Nearly 900 groups and 18,000 volunteers have worked on the program during its history. Thirty-five groups have been involved continuously during that time.
These include: Alma Rotary Club; Boy Scouts of America Troop 124 and 463; Broken Bow FFA; Brule Lions Club (the first to sign up in 1990); Buffalo Bill Kiwanis; Centura Chapter of FBLA; Centura FCCLA; Centura National Honor Society; Church of Jesus Christ Latter Day Saints; Clay Center Community Club; Clay Center Lions Club; Comet Lodge #229 AF & AM; Cortland United Church; Dannebrog Area Boosters – Cub/Boy Scouts; Franklin FCCLA; Halter Holders 4H Club; Homestead National Monument; Keep Beatrice Beautiful; Keep Norfolk Beautiful; Kiwanis Club Holdrege; Knights of Columbus Council 1123; Lincoln Volkssport Club; Lost Creekettes; McCook Lions Club; McCook Rotary Club; Nebraska Corvette Association; Riverview Jr. Stockman 4-H Club; Silver Lake High School Student Council; St. Paul Rotary Club; Staplehurst Livestock 4-H Club; Sutton FFA/FCCLA Syracuse FBLA; Valentine Rotary Club; and Wilber Lions Club
The "Great Nebraska Trash-Off" began in 2009, and has cleaned a little more than 4,000 miles of roads via roughly 18,000 volunteers.
More information about both programs is available here.