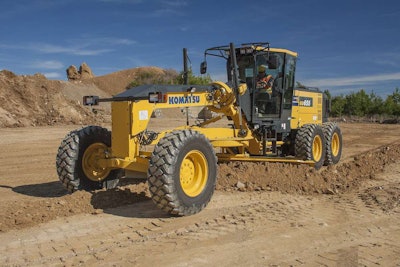 Komatsu's new GD655-6 motor grader, like a premium pickup truck, comes with just about every bell and whistle you could ask for.
Where to start? The dual mode transmission combines a torque converter with a direct-drive lockup clutch. In lockup you get high travel speeds and lower fuel use. The torque converter improves tractive effort and fine control when blading material at lower speeds. The driveline also delivers on-the-go full power shifting, inching capabilities and automatic shifting in the higher ranges.
No-stall engine
Komatsu's Tier 4 Final engine is programmed to prevent stalling by automatically disengaging the lockup clutch and switching to torque converter mode when you are handling heavy loads. The company claims the new grader gets 5 percent better fuel efficiency in power mode and 15 percent in economy mode compared to the previous model. To keep negligent operators from running up the fuel bill, an auto-idle shut down comes standard.
Extra hydraulic valves
The hydraulic system uses 10 control valves, giving you two additional valves with linkage for additional attachments. The GD655-6 is also set up for ripper and grade control installations if you choose those options.
According to the company, with a wheelbase of 21 feet, 4 inches, the new grader is the industry's longest in its class, yet it retains a turning radius of 24 feet, 3 inches.
Monitor everything
In the cab, a 7-inch LCD monitor allows you to modify settings such as the auto idle feature or the reversing hydraulic fan. You can also check operations records such as driving history, fuel and DEF consumption and keep tabs on your diesel particulate filter. The monitor even serves as a learning tool with tips for reducing fuel consumption. A rear-view camera come standard and mounts above the front windshield.
Telematics
On the digital front, Komatsu's equipment management monitoring system (EMMS) enables you to monitor, maintain, troubleshoot and repair the grader quickly. The company's telematics system, Komtrax, allows you to keep up with the machine's fuel levels, operating hours, location and gives you cautions and maintenance alerts via on a website or a smart phone. Additionally, Komtrax now monitors DEF levels, ambient air temperatures and pressures.
Maintenance made easy
Ground-level fuel and DEF access simplify maintenance. The DEF tank has an external site gauge which prevents overfilling and spillage. The GD655-6 also comes with complimentary scheduled maintenance for the first three years or 2,000 hours and two DPF exchanges in the first five years.