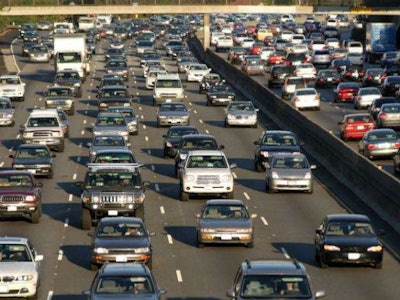 Five Republican congressmen have proposed a legislative effort to support the Highway Trust Fund (HTF) without increasing gas taxes primarily by limiting spending only to federal highway and bridge projects.
Congressman Thomas Massie (R-Ky.), Congressman Jim Jordon (R-Ohio), Congressman Justin Amash (R-Mich.), Congressman Jim Bridenstine (R-Okla.), and Congressman Ken Buck (R-Colo.) introduced the Developing Roadway Infrastructure for a Vibrant Economy (DRIVE) Act of 2015– H.R. 1461–on March 19.
"Currently, gas tax revenue is diverted from the federal Highway Trust Fund for bike paths, sidewalks, mass transit, and other local projects," Massie said in a release. "But due to inflation and fuel efficiency improvements of today's vehicles, there is no longer enough money in the Highway Trust Fund to maintain our nation's critical highways and bridges while also funding local projects that have no federal nexus."
"By eliminating diversion of gas tax revenues, the DRIVE Act ensures that the Highway Trust Fund can fulfill its namesake duty–to fund highways, without an increase in the gas tax rate."
The DRIVE Act would repeal the "authorization" for any funds to be diverted to the Mass Transit Account (MTA), an amount estimated at between $9 billion and $10 billion each year. Projects such as streetcars, light rail, subways, and buses fall under the MTA.
While this effort would keep this amount for the HTF if it were to be passed, it does not address the long-term needs of the fund.