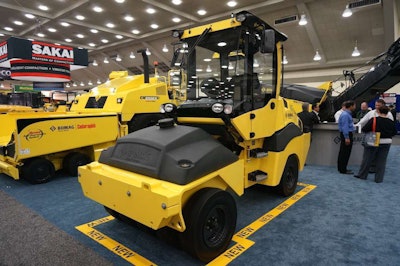 [imagebrowser id=214]
Bomag Americas has launched its Tier 4 Final (T4F) BW11RH-5 roller at the World of Asphalt show in Baltimore, representing a machine with a dramatic redesign decades in the making.
"This machine is a big change visually," said David Dennison, marketing services and product manager. "It provides excellent visibility literally where the rubber meets the road."
Enhancing that visibility, and representing the biggest design change, is the reversal of the engine and ballast placements. They are essentially reversed from the previous design, with the Kubota engine now positioned in the back, and the water- or sand-fillable ballast compartment placed in front.
While the T4F engine does offer a more contoured and sloping hood, the placement of the lower ballast compartment in the front line of site provides the operator a drastic field of vision improvement.
Switching the engine and ballast positions also reversed the offset pneumatic tire configuration, moving the set of five tires to the front, and the set of four to the back.
Another big design change with the cab option is dual cab entry with doors on both sides. This development, Dennison said, is a safety feature highly requested in Canada and Europe now integrated into the design of the BW11RH-5.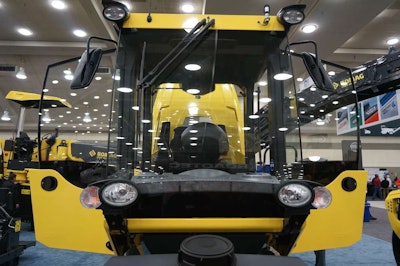 Other new additions include a swivel seat, and a mini control knob steering wheel, not only giving operators more flexibility of movement, but also helping in improving visibility. The swivel seat allows the operator to move for better views when needed and the smaller steering wheel removes both a physical (when entering and exiting the cab) and visual obstruction without affecting control.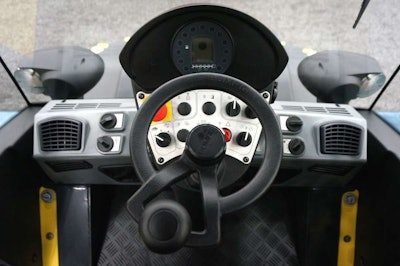 With the new engine design comes easier maintenance. The lower profile places the engine lower to the ground, so operators can stand while working on it. The polymer composite hood, while reducing weight, also offers sound reducing insulation.
Dennison said that while the design change is big, it's also not that complex. "When you talk to customers, they'll still tell you 'keep it simple'," he said. "So we did."
Other features include:
Brakes that automatically apply when the engine shuts down or with loss of transmission system hydraulic pressure
Three-speed hydrostatic transmission
10-foot inside turning radius via 35-degree centerpoint articulation
10-degrees oscillation
Dennison added that chip and seal work would be a big application for the machine, in addition to asphalt compaction work on highways. "That's big for cities and counties—municipalities," he said.