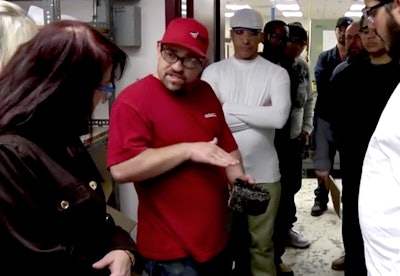 The Arizona Department of Transportation is partnering with Gateway Community College to offer a Highway Construction Pre-Apprenticeship certification program beginning March 23.
The program is being offered through ADOT's Business Engagement and Compliance Office and is funded through the Federal Highway Administration. The program ends May 7.
"This outreach program has a specific purpose to create a pool of qualified workers from specific target groups—women, minorities, economically disadvantaged and veterans—to work in the highway construction industry," said Olga Diaz, OJT/workforce development manager at ADOT's Business Engagement and Compliance Office.
A combination of hands-on activities and classwork will cover computer technology, construction math, and Occupation Safety and Health Administration 10 and traffic control certification. Applicants must be registered at Gateway Community College and attend all seven weeks of the program. Supplies provided include work gloves, safety goggles, and steel-to boots.
Completing the program provides students with 12 credits, an OSHA training voucher, and a Traffic Control Flagger certification voucher.
"Participants completing the program have a huge advantage in stepping into an opportunity for future employment and empowers them to move forward knowing that opportunities are there for them," Diaz said.
More information on the program is available here. A video on ADOT's three-week Construction Academy, a separate program that gives a primer on all trades available in the construction industry is below.