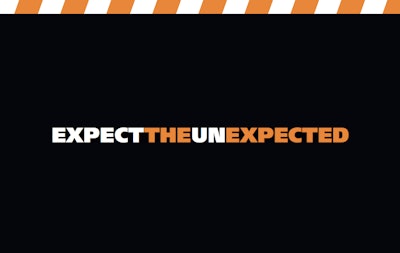 "Expect the Unexpected" is the theme for this year's National Work Zone Awareness Week, a campaign designed to promote safe driving through highway work zones and construction sites.
First launched in 2000 by the Federal Highway Administration (FHWA), the American Traffic Safety Services Association (ATSSA), and the American Association of State Highway Transportation Officials (AASHTO), the campaign has "significantly" reduced work zone fatalities in its 15-year history, the associations report.
The "Expect the Unexpected" effort, which is the same theme used the first year, kicks off March 24 in Northern Virginia at the Washington Boulevard/Columbia Pike Virginia Department of Transportation Interchange Project.
Promotional materials for the campaign, including a download of the poster shown here, are available on ATSSA's web site.
The campaign is currently sponsored by ATSSA, FHWA, AASHTO, The Associated General Contractors of America, Federal Motor Carrier Safety Administration, the American Road & Transportation Builders Association, the departments of transportation for Virginia, Maryland, and the District of Columbia, and workzonesafety.org.