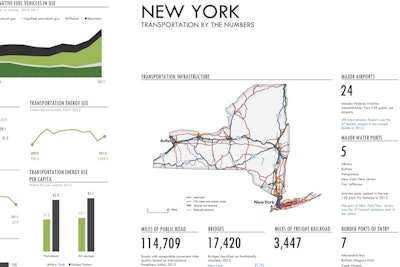 The Bureau of Transportation Statistics (BTS) has updated its State Transportation by the Numbers Profiles for 2014 in a two-page infographic format.
BTS is the statistical arm of the U.S. Department of Transportation (USDOT) and has released these reports each year going back to 2003.
"You don't have to be a data-head to enjoy these profiles," Todd Solomon, USDOT digital media director, said in a Fast Lane blog post about the reports. "The BTS fact sheets are visually friendly, two-page collections of transportation information for each of the 50 states and the District of Columbia."
The reports come in two formats: vertical 8.5 x 11 inches and horizontal 11 x 17 inches.
They include statistics covering miles of public road, number of bridge, miles of freight railroad, number of major airports and major water ports, and border points of entry. Number of highway fatalities and fatality rates, fuel and energy usage, population statics, methods of work commute, gross domestic product, and commodities shipped are also included.