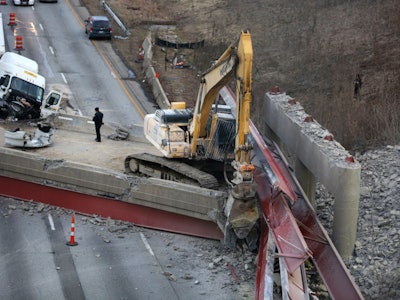 Kokosing Construction Company Inc., whose employee Brandon Carl was crushed and killed in January while working atop a bridge crossing Interstate 75, says it has hired "independent experts" and a "third party professional engineering firm" to review its demolition plans for the entire company.
CEO Brian Burgett made the announcement in a statement late last week, as reported by the Cincinnati Enquirer, where the statement can be read in full.
Kokosing also released documents detailing demolition plans for the bridge, which revealed that an engineer made changes to the plans hours before the incident took place. According to the Enquirer, "An independent bridge expert has suggested the engineering on those changes was flawed," calling them "sloppy," and fundamentally flawed."
Carl's family has since filed a lawsuit against the Ohio Department of Transportation, calling the department "negligent and careless, according to the Enquirer.
Burgett said that while nothing the company does "can ever change the tragic events of January 19 when something went terribly wrong," what it has done is "review and reinforce the procedures we follow to check and double-check our demolition plans for this (the Hopple Street Ramp Bridge) and other similar projects."
"We have always had stringent protocols in engineering," Burgett continues in the statement, "we are taking this additional step to enhance the integrity of our demolition plans to protect the safety of our workers and everyone impacted by the construction we do."
Kokosing will continue to work with investigators from the Ohio Department of Transportation and the U.S. Occupational Safety and Health Administration to figure out what caused the bridge to collapse, Burgett said.
"We want to know exactly what happened that day. We want to be sure nothing like this happens again. We work tirelessly to protect the safety of our employees and traveling public every day," Burgett concluded.