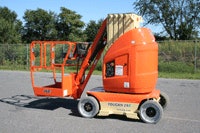 McConnellsburg, Pa. (November 29, 2010) — JLG Industries, Inc., an Oshkosh Corporation company [NYSE:OSK] and a leading manufacturer of aerial work platforms and telescopic material handlers, announced today that it is re-launching its vertical mast lift – T26E, formerly named E26MJ.
The T26E mast boom lift features a vertical telescopic mast with a jib that enables operators to reach above and around obstacles to complete jobs quickly and efficiently. Ideal for plant maintenance applications, heating, ventilation and air-conditioning (HVAC) contractors, electrical contractors and workers in automotive plants, the T26E allows operators to easily maneuver around assembly lines, shelving, ductwork and partitions to complete jobs with minimal disruption to worksites. With the enhanced direct electric drive, the T26E boasts a longer battery life with more duty cycles to increase productivity. The AC motor also features quieter operation with lower maintenance costs.
"We are excited to introduce the updated T26E mast boom lift, featuring environmentally-friendly electric power," said Chris Mellott, JLG Industries VP, sales and market development for the Americas. "The various enhancements will lower the total cost of ownership for rental companies and increase productivity for machine operators."
For additional operator support, the T26E offers improved style and control. Furthermore, with a platform capacity of 500 pounds, overall width of 39 inches and platform height of 26 feet, the T26E is compact enough to access hard-to-reach areas and navigate through narrow aisles, and is robust enough to hold two workers and their supplies.
For additional information about JLG products, visit the company website at www.jlg.com.
About JLG Industries, Inc.
JLG Industries, Inc. is the world's leading designer, manufacturer and marketer of access equipment. The Company's diverse product portfolio includes leading brands such as JLG® aerial work platforms; JLG, SkyTrak® and Lull® telehandlers; and an array of complementary accessories that increase the versatility and efficiency of these products. JLG is an Oshkosh Corporation company [NYSE: OSK]. For more information about JLG Industries, Inc., visit www.jlg.com.
About Oshkosh Corporation
Oshkosh Corporation is a leading designer, manufacturer and marketer of a broad range of specialty access equipment, commercial, fire & emergency and military vehicles and vehicle bodies. Oshkosh Corporation manufactures, distributes and services products under the brands of Oshkosh®, JLG®, Pierce®, McNeilus®, Medtec®, Jerr-Dan®, Oshkosh Specialty Vehicles, Frontline™, SMIT™, CON-E-CO®, London® and IMT®. Oshkosh products are valued worldwide in businesses where high quality, superior performance, rugged reliability and long-term value are paramount. For more information, visit www.oshkoshcorporation.com. ®, ™ All brand names referred to in this news release are trademarks of Oshkosh Corporation or its subsidiary companies.
Forward-Looking Statements
This press release contains statements that the Company believes to be "forward-looking statements" within the meaning of the Private Securities Litigation Reform Act of 1995. All statements other than statements of historical fact, including, without limitation, statements regarding the Company's future financial position, business strategy, targets, projected sales, costs, earnings, capital expenditures, debt levels and cash flows, and plans and objectives of management for future operations, are forward-looking statements. When used in this presentation, words such as "may," "will," "expect," "intend," "estimate," "anticipate," "believe," "should," "project" or "plan" or the negative thereof or variations thereon or similar terminology are generally intended to identify forward-looking statements. These forward-looking statements are not guarantees of future performance and are subject to risks, uncertainties, assumptions and other factors, some of which are beyond the Company's control, which could cause actual results to differ materially from those expressed or implied by such forward-looking statements. These factors include the impact on revenues and margins of the projected decrease in M-ATV production rates; the cost of any warranty campaigns related to the Company's products; the Company's ability to start production under the FMTV contract at targeted margins; the cyclical nature of the Company's access equipment, commercial and fire & emergency markets, especially during periods of global economic weakness and tight credit markets; the duration of the ongoing global economic weakness, which could lead to additional impairment charges related to many of the Company's intangible assets and/or a slower recovery in the Company's cyclical businesses than equity market expectations; the expected level and timing of U.S. DoD procurement of products and services and funding thereof; risks related to reductions in government expenditures in light of U.S. defense budget pressures and an uncertain DoD tactical wheeled vehicle strategy; the potential for the U.S. government to competitively bid the Company's Army and Marine Corps contracts; the consequences of financial leverage associated with the JLG acquisition, which could limit the Company's ability to pursue various opportunities; risks related to the collectability of receivables, particularly for those businesses with exposure to construction markets; risks related to production delays as a result of the economy's impact on the Company's suppliers; the potential for commodity costs to rise sharply, particularly in a future economic recovery; risks related to costs and charges as a result of facilities consolidation and alignment; risks associated with international operations and sales, including foreign currency fluctuations and compliance with the Foreign Corrupt Practices Act; risks related to disruptions in the Company's distribution networks; and the potential for increased costs relating to compliance with changes in laws and regulations. Additional information concerning these and other factors is contained in the Company's filings with the Securities and Exchange Commission. The Company disclaims any obligation to update such forward-looking statements.