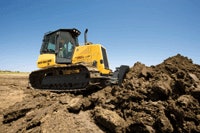 Featuring blade angle forces up to 31,000 pounds (14,061 kgf) and blade angle torque up to 85,250 foot-pounds (38,669 kgf), the New Holland D85B and D95B crawler dozers can perform the toughtest earth-moving jobs. These state-of-the-art machines maximize productivity with outstanding power and smooth, responsive hydraulic control.
The optional variable pitch blade adjustment makes it easy to adjust the blade angle between the 52-degree carrying angle and the 60-degree cutting angle.
New Holland crawler dozers are available in three different track configurations—LT (Long Track), WT (Wide Track), or LGP (Low Ground Pressure) to handle everything from firm ground conditions and sloped areas to soft, swampy ground conditions. Advanced track life is also offered as an option for all three track configurations.
New Holland B Series crawler dozers have the leading SAE point score for periodic maintenance compared to other dozers.The tilt-over cab/platform provides quick, unmatched service access to hydraulic pumps and powertrain components. Easy-open service panels provide fast, convenient access to maintenance checkpoints.
For product information, finance offers and more, please visit www.newholland.com. For a New Holland crawler dozer product demonstration, see your local New Holland dealer.
New Holland Construction manufactures and markets a full line of skid steer loaders, compact track loaders, loader backhoes, tractor loaders, excavators, compact and full-sized wheel loaders, crawler dozers, motor graders and telehandlers. More information is available at www.newholland.com. New Holland is a division of CNH Global N.V., whose stock is listed at the New York Stock Exchange (NYSE:CNH), which is a majority-owned subsidiary of Fiat S.p.A. (FIA.MI). More information about CNH can be found online at www.cnh.com.