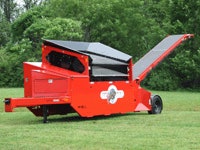 Lake City, PA. November 15, 2010 – Lake Erie Portable Screeners has introduced a new portable screener that can be towed virtually anywhere, setup in minutes, and will screen dirt and debris with maximum productivity. The rugged Pitbull 2300, commercial grade portable screener, is manufactured in the USA with high quality construction that includes a 47 HP Tier 4 compliant diesel engine, 2-tier shaker table with quick-change 2-piece screens, hydraulic leveling system, and adjustable height stacking conveyor.
The Pitbull Screener offers a large 78" x 76" screen area with a deep loading apron that allows for fast loading of material with a front end loader or excavator. The dual tier shaker table design includes two sizes of screens that can be quickly changed for different sized screening options. Standard screen openings are from ¼" to 3" square. The Pitbull frame construction is structural tubular steel making it the most rigid in its class. When the unit is in operation it is virtually vibration free except in the screening area itself.
This portable screener has been engineered to be easily transported with a standard pintle hitch or optional gooseneck hitch. A tough Torflex axle with oil bath hubs is utilized for safe highway transportation and rugged off-road construction sites. A unique hydraulic system quickly transforms the axle and tongue jack from transport to operating position.
The Pitbull Screener incorporates two reinforced rubber belted conveyors for moving screened materials. A large, heavy duty conveyor directly under the shaker table collection hopper transfers the screenings onto a secondary stacking conveyor. This 20 ft. long heavy duty stacking conveyor is hydraulically adjustable in height from 4'-6" to 13' for stock piling or loading directly into a truck or construction vehicle.
All system and engine controls are conveniently located within an access panel at the front of the unit on the driver's side. The engine compartment is fully enclosed and lockable. The unit comes with a 24 gallon fuel tank and a large separate hydraulic reservoir. Street legal trailer lighting, directional signals, electric brakes, and 17.5" radial tires are standard. Curb weight is 12,140 pounds and the overall length is 34 ft. including the conveyor.
Available options include a fifth wheel trailer hitch, spare tire and wheel assembly, generator, air compressor, and secondary chute for sorting two graded materials at once.
The Pitbull 2300 Portable Screener will be on display at ConExpo Booth #4358.
For more information, visit the company website at: www.pitbullscreeners.com