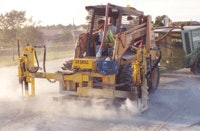 STILLWATER, Okla. — E-Z Drill offers the Model 210 Twin Vertical, a concrete drill attachment that is compatible with most skid steers and compact loaders. This rock drill system contains two adjustable vertical drills, making it ideal for pulling patches, slab-jacking and under sealing. The unit is designed for maximum productivity and is completely pneumatic, which eliminates the need for electric or hydraulic hook-up.
The 210 Twin Vertical utilizes CP 69 rock drills and has the capability of drilling a hole between 3/4 and 2-1/2 inches (19.1 to 63.5 mm) in diameter. It features a maximum drilling depth of 17 inches (431.8 mm) and requires a minimum of 260 CFM (7.3 m3/min) for operation. Drill spacing adjusts easily from 5 to 10 feet (1.5 to 3.1 m) on center. The feed system also includes an angular adjustment, allowing the drills to be positioned between 90 and 45 degrees.
For quick, convenient operation, the system can be controlled from the cab via pneumatic remote, which is powered by the same air compressor as the drills. To further enhance productivity, the patented roller bearing feed eliminates friction on the carriage to reduce replacement costs and help prevent downtime.
E-Z Drill offers a complete line of drill bits and drill steel to complement its systems. Other specialty drill designs are also available for attaching to skid steers or compact loaders. This includes the Model 110-3 SL, which is a swivel-mounted horizontal drill system. This unit is capable of drilling to either side or directly to the front of the carrier machine and can be configured with 2 to 6 drills.
Established in 1987 after creating a solution to slow, handheld rock drills, E-Z Drill now manufactures lines of slab rider drills, on-grade models and equipment-mounted drills, as well as vertical utility models and concrete drilling accessories, such as dust collection systems and cure sprayer trailers. E-Z Drill also can custom design and build automatic drill systems for customers' specific jobs. For more information on E-Z Drill's complete line of concrete drilling and doweling equipment, contact E-Z Drill, P.O. Box 517, 4615 W. Lakeview, Stillwater, OK 74076, call 800-272-0121, fax 405-372-1429, e-mail sales@ezdrill.com or visit the website www.ezdrill.com.