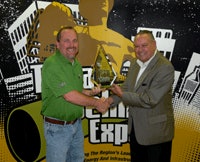 The staff of the Tulsa Pipeline Expo is proud to announce the Best New Product Award of the 2010 Show has been awarded to Cool Hard Hat.
The company's hard hat was officially released at the show and was a huge success. President Jim Welsh stated, "I was thrilled with the great attendance at the 2010 Tulsa Pipeline Expo- it was much beyond our expectations. The Expo was an excellent venue to launch the product, and it generated enormous interest. The pipeline industry is certainly one where lots of hard hats are used, and the Cool Hard Hat can definitely provide an improved degree of comfort to those working in this field. Cool Hard Hat will definitely be exhibiting in the 2011 Tulsa Pipeline Expo."
There are two internal fans which blow air on the back of the neck and the top of the head at a rate of over 8 cubic feet of air per minute and can lower the interior temperature of the hard hat by as much as 20 degrees or more!
The hats feature a built in charger to charge the internal batteries, which can be recharged overnight and provide up to 10 hours of run time per charge. Company officers are James Welsh- President, Tom English- Marketing VP, William Harris- Communications VP, and Kenny Tolbert- Advertising Director. For more detailed product and ordering information, please visit their website at www.coolhardhat.net or call 888-815-0666.
The 2011 Tulsa Pipeline Expo is scheduled for August 29th thru 31st, 2011. Please visit www.tulsapipelineexpo.com for more details.