Kasi infrared chamber upgrade allows seamless asphalt repair in under 20 minutes doubles chamber longevity to over 10 years
Kasi, the worldwide leader in infrared asphalt repair, has redesigned its heating chamber with a new upgrade option that makes seamless asphalt repair even faster, deeper, and more uniform. The infrared chamber upgrade enables seamless asphalt repair in under 20 minutes (of a typical 5' x 5' patch including preparation and clean up), and doubles infrared chamber longevity to over 10 years.
At the heart of what makes this possible is a new 9"-wide, Inconel alloy, heating converter, mesh design in place of typical 2"-wide heating converter mesh. With the wider infrared heating mesh design, more asphalt is heated faster, deeper, and more evenly. The greater heating coverage, in fact, can soften existing asphalt to be patched, up to a 3" depth in as little as 4 minutes, about half the time of typical infrared heat converters. The more uniform heat coverage eliminates potential hot or cold spots, making the raking or "scarifying" of existing asphalt to remove seams even easier.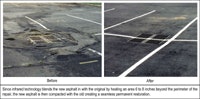 Since the wider heating converter mesh design generates more heat with better coverage, it also reduces the need for replacement parts used in typical asphalt infrared repair technology. With fewer replacement parts, the new design doubles the life expectancy of Kasi's upgraded infrared heat chamber to over 10 years.
Unlike traditional "saw, cut, and remove" or "crack filler" asphalt repair techniques, Kasi's infrared asphalt repair has no seams for water and ice to penetrate. Instead, Kasi's infrared restorations fuse to the existing pavement, creating a continuous surface. This eliminates the need for tack-coating the edges, enhances durability, and allows roads to be opened to traffic immediately. It also makes the repair process less expensive, since existing asphalt is recycled, crew size is typically limited to two; and only a single truck or trailer is used.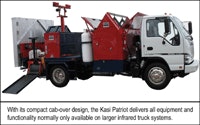 Kasi's infrared asphalt repair equipment is commonly used by both public and private maintenance/transportation managers for asphalt repair of pot holes, utility cuts, trenches, depressions, joints, and other irregular pavement issues. Lab studies show there is no change in asphalt integrity from the use of Kasi infrared equipment.
Kasi's new infrared chamber upgrade can be retrofitted on any existing Kasi equipment including the Patriot truck-mounted system and Minute Man trailer-mounted system as well as some other manufacturer's infrared equipment. The company offers a complete line of asphalt repair equipment worldwide including infrared heaters, asphalt reclaimers, asphalt rollers, rakes, brooms, shovels, and more.
For more info, visit www.kasiinfrared.com to view a step-by-step video of how the asphalt infrared repair process works; email info@kasiinfrared.com; or call 800-450-8602.