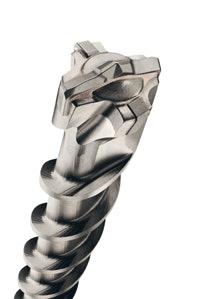 Mount Prospect, Ill., October 14, 2010 – Bosch Power Tools & Accessories announced today the most innovative new hammer carbide drilling bit on the market. Bosch's new SpeedX series of hammer carbide bits for concrete are up to 20 percent faster and 18 percent more durable than any other concrete bit available.
"Bosch has been known for having the most durable concrete bits," states Andrew Pompei, Product Manager. "Now there is no compromise because they are also the fastest."
SpeedX is the next generation of SDS-max®, SDS-plus® and Spline concrete bits packed with innovation. Holes start precisely, thanks to the centric active tip, and begin quickly as the inclined side cutters power their way into concrete. By utilizing a shortened head design and enlarged dust-clearing channels, SpeedX actually performs better as holes get deeper. In head-to-head competitive testing, the speed difference in deep drilling applications is easy to see, which translates into better jobsite productivity.
In addition to significant increases in speed, Bosch engineered SpeedX to deliver the outstanding performance and long-term durability users have grown to expect from all Bosch hammer carbide products. Vacuum optimized brazing and heat treatment of the precision carbide tip provides excellent resistance to impact and thermal stresses and contributes to an 18 percent increase in lifetime. The same shortened head and inclined cutting slots responsible for increased drilling speed also enhance durability by providing fast dust removal and reducing friction. The expanded flutes further reduce friction as holes get deeper by clearing debris and enabling SpeedX to drill efficiently in deep applications. The precision engineered flutes also reduce vibration in deep drilling.
BOSCH SPEED-X HAMMER CARBIDE Add One
For precision anchoring applications, Bosch has moved the wear mark to the tip of SpeedX. Unlike previous hammer carbide that employed wear marks on the flutes, SpeedX alerts users when the carbide tip is worn and will no longer deliver precision anchoring at the start of drilling. The feature was first introduced on Bosch's X5L Hammer Carbide and was praised by users who quickly realized imprecise hole placement was the most significant problem associated with worn hammer carbide.
The Bosch SpeedX is now available in SDS-max®, SDS-plus® and Spline versions and in a variety of popular sizes. To find out more or to find a local dealer, users may visit www.boschtools.com or call 877-BOSCH-99.