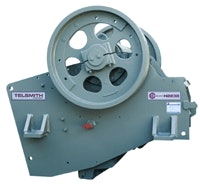 MEQUON, WI – The new Telsmith H2238 is the latest addition to its Hydra-Jaw™ Series which is the result of advanced jaw crusher technology that offers lower operating costs, increased uptime and production capacity, streamlined operation and maintenance, and greater safety. The new Hydra-Jaw H2238 (as well as the previously introduced H2550) addresses reduced operating costs through a unique hydraulic toggle system which features a heavy-duty hydraulic cylinder that is custom-engineered for crushing applications. The unit's innovative hydraulic adjustment, relief and clearing systems eliminate costly downtime and prevent component damage, while also protecting workers from risks typically associated with the operation and maintenance of older jaw crusher models. Importantly, the H2238 is engineered with a Pitman Lockout Pin that locks the Pitman in the forward position, allowing the toggle to be retracted and lowered away for maintenance in one safe, simple operation. Ideally suited to the needs of the portable crushing contractor, the FEA-designed H2238 (with a 22-in x 38-in jaw opening) is easy to install on wheeled or track-mobile units.
A closer examination of the advanced hydraulic systems in the H2238 starts with the Hydraulic Adjustment, which practically eliminates adjustment downtime. Versus the lengthy and often unsafe shim adjustments typical to traditional crushers, the H2238 offers finger-tip controls which allow easy, frequent and fast adjustments as needed. The Hydraulic Overload Relief system prevents crusher damage, downtime and difficult maintenance procedures by opening the crusher when internal forces become too high, allowing tramp metal or other non-crushable material to pass, and protecting the unit against costly component failure. After relief, the system automatically returns the crusher to the previous setting for continued crushing. Eliminating the costly time and labor spent in digging out the jaw, the Hydraulic Chamber Clearing allows the operator to safely and easily clear the crusher, and resume operation in just minutes. The hydraulics will crush any materials that remain in the chamber and prevent any oversized material from impacting the product belt.
Additional cost- and time-saving benefits of the H2238 include inexpensive replaceable toggle ends; a toggle tensioning system that eliminates the need to adjust springs when changing the settings; jaw dies that are interchangeable between the swing and stationary jaws and are reversible from top to bottom; an impact plate that protects the pitman from wear; and grease lines that are plumbed to a central distribution point for quick maintenance access.
For immediate information on the new Telsmith Hydra-Jaw H2238 or the H2550, visit www.telsmith.com. For more information, call toll-free 800-765-6601; or 262-242-6600; fax: 262-242-5812 or e-mail sales@telsmith.com
In addition to the engineering of fully automated plants and integrated systems, Telsmith's complete equipment line includes cone crushers, jaw crushers, primary and secondary impact crushers, portable and modular crushing plants, stationary systems, washing equipment, vibrating screens and feeders, and portable and stationary conveyors.
Celebrating more than a century of service, Telsmith has built its reputation as a provider of reliable and productive equipment engineered to process more material at lower costs per ton. The company's ongoing commitment to quality led to its ISO 9001 certification in 1994, and to its inclusion as one of a number of companies comprising the Astec Aggregate and Mining Group