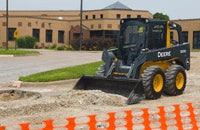 OLINE, Illinois (Feb. 2, 2010) — The introduction of John Deere's new D-Series skid steer loaders and compact track loaders (CTLs) is the culmination of years of careful research and a partnership with skid steer owners and operators from around the world – all to ensure D-Series operators have the comfort, features and performance needed to do their best work.
"We've listened to what customers told us they wanted in skid steer and compact track loaders, and we've responded with nine new models that incorporate their suggestions," said Gregg Zupancic, Deere's product marketing manager for skid steers and compact track loaders.
The 318D, 320D, 326D, 328D and 332D are the new skid steer models, joining the existing small-frame, radial lift 313 and 315. For the compact track loader line, the new 319D, 323D, 329D and a 90-hp 333D join the recently introduced small-frame, radial lift CT315.
A "Big Man" Operator Station
One of the most dramatic differences in the D-Series is the cab. "Customers have been asking us for more comfortable cabs similar to those found on larger pieces of Deere equipment, so we've introduced an all-new operating environment," Zupancic said.
Overall, D-Series cabs feature 24 percent more room than their predecessors and six more inches of headroom. They are also quieter, positively pressurized and easier to get in and out of, due to a larger door opening. "Even with all the changes, visibility to the work is better than the industry-leading visibility on the previous generation 300 Series machines," Zupancic said.
The 50-percent noise reduction in and around the D-Series cab comes from several sources beyond mere sound absorption, including a hydraulic fan drive, an auto idle feature (which also saves fuel) and the new electronically controlled engines.
A high-performance HVAC system includes eight adjustable airflow vents for additional comfort.
Industry Firsts
As a result of further customer suggestions, Deere's D-Series contains several industry firsts.
"Operators asked us why they can't get more 'big machine' features in skid steers and CTLs, in addition to the bigger, more comfortable cab," Zupancic explained. "We think they're right and that's why we've responded with items like the auto idle, an optional reversing hydraulic fan, and an innovative V-Plenum cooling system that provides significantly more cooling capacity and performance."
D-Series skid steers and CTLs have electronically controlled Tier 3/interim Tier 4 engines coupled with a new auto idle feature, providing quieter operation and fuel savings. The optional reversing hydraulic fan is a variable speed unit working with a computer program that monitors engine and hydraulic fluid temperatures to ramp fan speed up or down as needed.
"Spinning only as fast as needed saves fuel and reduces noise," Zupancic said. "Like bigger machines, it has 'cool on demand'-type advantages – one is that there will be less debris intake into the cooling system if the fan runs slower on average throughout the day, another is the reversing option for high-debris applications. If you're working in a trashy or high-dust environment, you can easily blow debris off the coolers from the comfort of the cab."
V-Plenum cooling, first introduced on Deere four-wheel-drive loaders, has coolers that are significantly larger and taller because they are side by side. These aluminum coolers are protected from air-blown debris damage since the fan is rearward of coolers – the fan is not blasting debris into coolers but instead drawing or sucking air through coolers from the rear.
Other benefits of the new fan placement and design:
– A large and efficient design for increased airflow. This eliminates recirculation and also reduces air warm-up time of the ambient air drawn past the engine. A "sucker" fan is more efficient than "pusher" fan from an airflow standpoint.
– Larger aluminum coolers with more fins made of excellent heat transferring materials.
– Side-by-side cooler design – eliminating the pressure drop inherent with stacked coolers along with the debris build-up and cleaning issues.
"The cooling system will be a huge benefit to productivity and uptime, because it runs cleaner longer and is easier to maintain, and that will help keep daily operating costs down," Zupancic said.
Power and Customizable Precision
"Customers asked us if they could adjust the maximum speed and sensitivity of the boom and bucket when operating in a specific application," Zupancic said. "They also asked for a Creeper mode to slow down wheel speed independently of the engine speed. So we created the enhanced operator productivity option, called the EH Performance Package, where the operator can make adjustments to create a machine that perfectly fits his application or skill level."
The EH (electro hydraulic) Performance Package includes switchable controls from the ISO to H pattern, the creeper mode in which the operator can set wheel or track speed in 10-percent increments of the unit's top speed, and boom and bucket metering, with three different speed settings: Precision/economy (slow), Utility (medium) and Production (fast).
Deere engineers have also made adjustments to the mid-frames in the skid steer and CTL line, the 318D, 320D (skid steers), 319D and 323D (CTLs), which allows them to dump into a 10-ft. sidewall dump truck, thanks to an average of four more inches of lift height at the hinge pin. An EH joystick option is also now available.
The D-Series keeps many of the productivity features popular from the 300 Series, including planetary gear drives on the CTLs for increased pushing power and reliability, and industry-leading bucket roll-back and dump angles – retained even while increasing boom and bucket breakout forces.
John Deere (Deere & Company — NYSE: DE) is a world leader in providing advanced products and services for agriculture, forestry, construction, lawn and turf care, landscaping and irrigation. John Deere also provides financial services worldwide and manufactures and markets engines used in heavy equipment.
Since it was founded in 1837, the company has extended its heritage of integrity, quality, commitment and innovation around the globe. John Deere Construction & Forestry produces more than 120 machine models and distributes its construction, forestry and worksite products through a network of more than 1,300 dealer locations worldwide. For more information, visit www.JohnDeere.com.