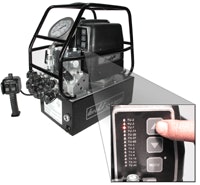 Easton, PA USA: TorcUP Headquartered in Easton, Pennsylvania, presents the SUPER VELOCITY TORQUE WRENCH PUMP! The SV1000 is the perfect synthesis of continuous speed ratcheting and power torque. This industrial pump succeeds in combining all that is desired in a hydraulic torque wrench pump… and more! An upgrade to the popular EP1000, integrating a new style of roll cage and different configuration of the gauge setup. Our customers spoke and we listened! The handle of the pump is no longer a part of the shroud, but is now a part of the roll cage! But what makes the SV1000 SUPER is it's built in circuitry that allows you to choose the tool you are using on the pump and it will automatically adjust the timing to be correct FOR THAT TOOL SPECIFICALLY! After that, simply put the tool on the nut and this pump will CONTINUOUSLY ADVANCE until the bolt starts to tighten! THAT'S RIGHT, 1 PUSH OF THE BUTTON! The pump KNOWS WHEN TO STOP! It senses the tightening of the bolt and allows you to finish the application to achieve proper torque!
Try our SUPER SMART, SV1000 Today! TorcUP representatives are available EVERYWHERE for a demonstration! To find your local representative, Call Today at 1-888-TorcUP-1 or visit www.torcup.com !
Be sure to visit TorcUP on FACEBOOK, Twitter and YOUTUBE to watch our latest sponsorship of IndyCar Racing Series FAZZT Racing Team and Alex Tagliani #77 driver!
TorcUP Inc. specializes in the supply of Industrial Bolting Tools used for tightening and loosening heavy duty nuts and bolts. Available in both pneumatic and hydraulic powered models, TorcUP is the company that can tighten industrial fasteners faster and more accurately as well as loosen them easier and more safely. The passion to design the BEST tools in the industry means there is no room for compromise. TorcUP understands that changes in the industry require changes in tooling providing safer, more reliable designs that will GET THE JOB DONE! TorcUP is driven, growing and ready to meet your needs!