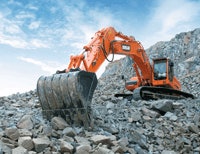 Despite a nearly 10 percent increase in engine horsepower compared with the model it replaces, the Doosan DX350LC excavator still sips on fuel and easily meets all current Tier 3 emissions standards.
The DX350LC is powered by a 271-horsepower, 6-cylinder Doosan DL08 water-cooled diesel engine. The turbocharged 466 cubic inch engine features a common rail design with direct fuel injection and electronic control and four valves per cylinder.
With standard boom, arm, bucket and triple grouser shoes, the DX350LC weighs 77,603 pounds and offers 54,012 pounds of breakout force. Standard bucket capacity is 1.95 cubic yards. The DX350LC with standard arm has a reach at ground level of 36 feet and a dig depth of 24 feet 2 inches in an 8-foot level trench. Lift capacity over front at a 20-foot radius is 27,540 pounds.
An electronic power optimizing system (e-POS) links the engine and hydraulic systems for optimal operating efficiency. The e-POS provides electronic control of fuel consumption, automatic engine deceleration, control of hydraulic flow rate and a self-diagnosis function that allows technical problems to be resolved quickly. In addition, an operational memory provides a graphic display of the status of the machine, and maintenance and oil change intervals can be displayed.
Depending on the application, the operator can choose between three working modes — power, standard or economy. Power mode uses 100 percent of available engine power for heavy work and fast cycle times. Standard mode utilizes 85 percent of engine power for general work and normal speed. Economy mode minimizes fuel consumption without any loss of performance.
A multi-function, color LCD monitor panel provides the operator with complete information about the machine, including filter/oil information and operation history. Joystick controls include three additional switches for control of additional equipment such as grabs, crushers and grippers.
Pull-up type front window, removable lower window, sun visor and sunroof enhance visibility on the jobsite. Adjustable armrests allow the operator to raise or lower controls based on preference. Air conditioning and heat are standard. An air suspension seat with seat warmer is available as an option.
Polymer shims designed to extend pin and bushing life have been added to the bucket pivot, which needs to be greased only every 50 hours. Greasing intervals on the boom pivot have been extended to 250 hours. Engine oil change intervals have been extended to 500 hours while radiators and coolers are positioned for easy cleaning.
A PC monitoring function enables connection to the e-POS system, allowing various parameters such as pump pressures and engine speed to be checked and stored during maintenance.
The DX350LC — like every Doosan machine — is covered by an innovative 48-hour parts guarantee. The program guarantees that if a "machine-debilitating" part is needed, Doosan will deliver this part to the end user within two business days or Doosan will pay for a replacement machine rental.
In addition, Doosan is now offering new financing and leasing options through Doosan Global Finance.
ABOUT DOOSAN HEAVY CONSTRUCTION EQUIPMENT
Doosan heavy construction equipment includes large excavators, wheel loaders, and articulated dump trucks. Doosan is a global brand with more than 100 dealer locations in North America, fast becoming a serious force in heavy construction equipment, and known for an unmatched dedication to service and customer uptime, and durable, reliable products. For more information on Doosan heavy construction equipment, visit www.doosanequipment.com.