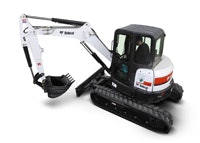 With a tail swing of less than an inch, the new Bobcat® E50 compact excavator can work in confined areas without sacrificing digging performance.
The E50 joins the Bobcat M-Series excavator line in the 4-to-5-ton weight class. An operating weight of 10,677 pounds and an overall width of 77.2 inches make it easy to transport, while a bucket breakout force of 9,442 pounds provides power for tough conditions.
Redesigned hydraulics with a load-sensing pump and closed center-valve system provide improved, refined control of machine travel and work-group operation. The new hydraulics combined with re-engineered boom geometry also result in increased bucket breakout forces. Cushioned work-group cylinders offer smooth end-of-stroke for precise control.
The E50 comes with an Auto-Idle feature which, if activated by the operator, automatically returns the engine to idle if excavator functions are not used for a period of four seconds, saving fuel and reducing jobsite noise. The engine automatically returns to the preset throttle position as soon as the operator starts working again. For precise engine speed adjustments, a new easy-to-use rotary knob has been added to the controls.
Within the operator's area, the boom swing control has been moved from the floor and placed on a thumb switch on the left joystick, making it easier to operate and opening up space on the floor for the operator's feet. New larger travel pedals fold up to provide more floor space while flush-mounted floor mats make cleanup easier. A keyless start system that discourages theft and vandalism is available as an option.
A TOPS/ROPS canopy with high-back suspension seat, retractable seat belt, cup holder, adjustable armrests and lockable toolbox is standard on the E50 while a quiet, comfortable enclosed "radio ready" cab with heat and air conditioning is available as an option. The cab includes an improved air conditioning system with a 20 percent increase in air flow and additional air ducts. An optional deluxe cloth seat is also available.
Like all Bobcat M-Series compact excavators, the E50 features an X-frame undercarriage that provides improved ground clearance and sheds debris for reduced cleanup time. Drive motor covers are inset within the motor wrap-arounds to protect them from potential damage.
Integrated slew brakes hold loads still and steady on slopes for more accurate placement. The need for the operator to manually engage the slew brakes during transport is eliminated, making it easier to load and position the machine.
In addition, Bobcat's exclusive in-track swing frame keeps the swing castings and cylinders within the width of the tracks when digging in an offset position, helping the operator dig flush against an obstacle. When other compact excavators work in an offset dig position, their components extend outside the tracks and reduce their ability to dig in tight areas.
E50 is available with a long arm option that maximizes dig depth, reach and dump height clearance. Other popular options include pad-ready steel tracks, a hydraulic angle blade, second auxiliary hydraulics, hydraulic clamp and Hydraulic X-Change attachment mounting systems for quickly switching between the 16 attachments approved for use on the machines.
For the name of the nearest Bobcat dealer, visit www.bobcatdealer.com. For more information on M-Series compact excavators, visit www.bobcat.com/excavators/.
ABOUT BOBCAT COMPACT EQUIPMENT
Bobcat compact equipment includes skid-steer, all-wheel steer and compact track loaders; compact excavators; mini-track loaders; VersaHandler® telescopic tool carriers; utility vehicles; compact tractors; and Toolcat™ utility work machines. Bobcat is a global brand with more than 600 dealer locations in North America and the leader in compact equipment — the industry's original innovator, beginning more than 50 years ago with the first compact machine and predecessor to the skid-steer loader. For more information on Bobcat products, visit www.bobcat.com
QuickLook: Bobcat M-Series excavators
Auto-Idle feature decreases fuel consumption and overall jobsite sound levels.
Fingertip boom swing control is easier to operate and opens up space on the floor for the operator's feet.
Integrated slew brake offers infinite braking positions.
Redesigned hydraulic system plus re-engineered boom geometry results in increased bucket breakout forces.
X-frame undercarriage sheds debris and prevents dirt from leaving jobsite.
Workgroup is redesigned for improved lifting performance and longer structural lifespan.
Load-sensing hydraulic system provides smoother and refined cycle times.
Exclusive in-track swing frame keeps the swing castings and cylinders within the tracks when digging in an offset position.
Redesigned cab has more foot room and adjustable armrests for greater operator comfort.
Lockable toolbox and pocket console keep tools and paperwork close at hand and secure.
Daily maintenance points are simplified, centralized and easily accessed.
Rear and side access door and fuel fills are lockable to prevent vandalism.
QuickLook: E50 compact excavator
Operating weight: 10,677 pounds.
Machine width: 77.2 inches
Tail swing overhang: standard arm — 0.6 inches, long arm — 3.6 inches.
Engine: 48.8 horsepower liquid-cooled diesel.
Dig depth: standard arm — 138.7 inches, long arm — 154.5inches.
Reach: standard arm — 233.8 inches, long arm — 249.3 inches.
Dump height: standard arm — 152.6 inches, long arm — 162.7 inches.
Auxiliary flow: 20 gpm.
Arm breakout force: standard arm — 6,452 lbf, long arm — 5,868 lbf.
Bucket breakout force: 9,442 lbf.