Motor Graders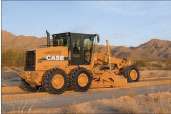 Case Construction Equipment's 800 Series motor graders boast rugged A-frame and moldboard design, flip-up rear hood, low-effort control levers grouped closely together for better operator control, and a front articulation joint that provides visibility to the moldboard. Models include the 845 with dual horsepower and the 865 and 885 with variable horsepower. All engines feature electronic controls and high-pressure common rail fuel-injection systems. Batteries swing out to make servicing easier, and fluid sight gauges assist with daily inspections. A temperature-controlled reversing fan purges materials from coolers and maintains optimum operating temperatures.
The seven-model lineup of Caterpillar M-Series motor graders, ranging from 138 to 259 horsepower base net power, feature joysticks replacing as many as 15 levers and a steering wheel, dynamic styling that opens up lines of sight, easy adjustment of the drawbar, circle and moldboard, a high-torque all-wheel-drive system, enhanced power management and emissions-compliant Cat C-Series engines with ACERT Technology. To see the M-Series motor graders in action, go to http://www.cat.com/equipment/motor-graders/motor-graders.

Champion offers several attachments for motor graders, including brooms, scarifiers and Rippifiers. The broom attachment has an adjustable broom angle 30 degrees left and right, and may be mounted to a frame, dozer blade or front-end loader attachment. The scarifier is equipped with four swing down scarifier shanks that release automatically when reversing. The Rippifier may be mounted to a rear frame with standard attachment brackets. The shanks can be removed, and placement locations allow for single-tooth ripping.

John Deere's G-Series motor graders offer users a choice of console-mounted industry standard controls or armrest-mounted industry-standard fingertip controls, and contains features like cross slope control, automatic differential lock and a rearview camera The models – ranging from 185 to 275 net horsepower and including six-wheel-drive units – are engineered for productivity, maximum uptime and low daily operating costs. G-Series graders are available with a front- or mid-mount scarifier, or a rear ripper/scarifier.
Komatsu America's new GD655-5 motor grader features a new patent-pending cab that offers unsurpassed all-around visibility. Even with the increase to 218 horsepower and 35,351 lbs, the fuel saving is 20 percent over than the model it replaced. This improvement is a result of Komatsu's three-stage, two-mode engine technology. The engine also features a full hydraulic reversible fan.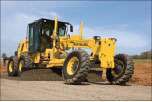 The New Holland G200 motor grader is designed for heavy grading, ripping and scarifying operations. The 69-inch diameter circle is one of the largest in its class, while the exterior-tooth design eliminates packing that is common to other brands. The moldboard rotates a full 360 degrees for infinite changes to the blade-cutting angle. This machine delivers the power, speed and total control for consistent flat-level grading and grading slope inclines up to 90 degrees..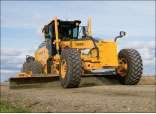 Volvo Construction Equipment adopted what it is calling a "clean sheet" approach by designing and launching the new Volvo G900-Series motor graders. Built on two distinct but integrated platforms, there are seven models, including two all-wheel-drive machines. All motor graders in the Volvo G900-Series have Tier 3-certified engines and are designed to combine the attributes of productivity, operator friendliness, reliability and ease of service into a quality package. The first four models were engineered with the 7.2-liter Volvo D7E engine. The larger three use the 9.4-liter Volvo D9B engine. All seven models have three power ranges, depending upon the transmission gear selected, as standard equipment and Proportional Demand Flow (PDF) intelligent load-sensing hydraulics.
The 705 Motor Grader by VT LeeBoy features a joystick control of grader functions integral to the operator's chair in a 17,000-pound unit with a 10-foot sliding and tilting moldboard. The 705 is powered by a 117-horsepower Caterpillar Tier 3 diesel engine and boasts a six-speed forward and three-speed reverse power shift hydrostatic transmission. Infinitely variable speeds up to 20 mph are achievable in forward. A load-sensing variable-displacement pump provides superior machine control and enhanced performance and efficiency. The LeeBoy 705 features wet disc brakes and a hydraulic release fail safe parking brake.
For high-resolution images see our digital edition at www.BetterRoads.com.