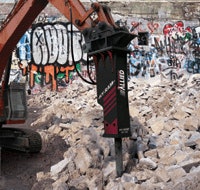 Cleveland, Ohio—Allied Construction Products, LLC has announced the introduction of the Hy-Ram® HR Series hydraulic impact hammer. Hy-Ram®
has "streetwise" attributes like an oil and gas operation that increases efficiency, a longer piston stroke for higher impact power and an auto-stop system to prevent "blank firing."
Allied has combined performance, efficiency and reliability in their all-new boom-mounted Hy-Ram impact hammer to offer several design advantages over other hammer manufacturers.
Simple, proven design
With continuous improvements over the years, the Allied Hy-Ram still uses the same simple, proven design that first gained industry-wide acceptance for the hydraulic hammer concept.
Oil and gas operation
One of the many features that contribute to the efficiency of the Allied Hy-Ram is the oil and gas operation. The Allied design of gas-assist using low pressure nitrogen improves the efficiency by reducing demand on the carrier's hydraulic system. There is no dependency on hydraulic accumulators. The accumulators are merely used to eliminate hydraulic "spikes". And, pressurized oil is always present at the bottom of the piston which prevents internal cavitation.
Long-stroke design
Another feature that contributes to the reliability of the Allied Hy-Ram is the long-stroke design which minimizes recoil, reduces vibration and eliminates mechanical springs.
Auto-Stop
The Allied medium and large Hy-Rams also have an automatic Auto-Stop feature that prevents blank-firing once the demolition tool has penetrated through the material being broken and downpressure is no longer applied.
Durable Housing design
The Allied Hy-Rams feature a durable housing design that suspends the
internal working body inside a full-box enclosure to protect the hammer,
reduce noise and minimize vibration and wear to the carrier. The durable
housing design is enclosed at the bottom and incorporates a heavy-duty Hardox rock claw.
AutoLube
Hy-Rams can also have an optional AutoLube mounted on the hammer housing which is an automatic lubrication system that dispenses lubricant by the hammer's vibration. The AutoLube uses a high-grade chisel paste in handy replaceable cartridges
Installation Kits
The Hy-Ram, which operates off of the carrier's hydraulic system, requires
an installation kit in order to be mounted on the backhoe/loader, excavator
or similar carrier. Allied offers over 2,500 installation kits to fit virtually every and model carrier.
The advantages of the all-new Hy-Rams include:
• Full-box enclosure protects hammer and reduces noise
• Shock-absorbing polyurethane acoustical inserts increase carrier endurance
• Larger gas chamber ensures higher impact power
Allied's all-new Hy-Ram® hydraulic impact hammer is "street tough"
• Autocontrol automatically regulates blow energy and frequency (HR 150 through HR 1200)
• Main Internal Control Valve System with large oil circuit generates low heat and operates with high-efficiency
• Autogrease system eliminates the need for manual greasing (HR 200 through HR 1200)
• Accumulator reduces stress on hydraulic components (HR 75 and larger)
• Durable housing incorporating heavy-duty rock claw (Hardox)
• Dual retainer bars extend retainer and tool life
• Long-stroke maximizes energy and minimizes recoil
• Heat-treated tool for longer life
The large, medium, small and mini-size Hy-Ram models are available in 12
different models ranging from working weights of 265 to 8,375 pounds and
tool diameters of 1.77 to 6.88 inches.
The concept of the high performance boom-mounted hydraulic hammer was
pioneered by Allied Construction Products, LLC The development of the Allied
Hy-Ram® concept is legendary in the demolition industry that demands reliability.
Allied Construction Products, LLC is a leader in innovative construction product technology. Through more than 200 U.S. and Canadian Distributors, Allied offers a complete line of backhoe/excavator, skid-steer and mini-excavator mounted attachments, stationary breaking and material handling systems and trenchless underground piercing tools.